Shane Byrne - British Superbike Champion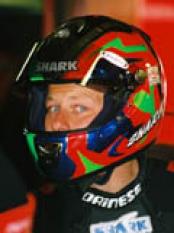 Pic: Carly Rathmell
By Dan Moakes
November 17 2004
Maybe you need a Ducati to be a success in Superbikes these days, but you still have to beat all the other Ducati stars. Not to mention the top Suzuki riders. Shane 'Shakey' Byrne has done just that in 2003, winning the British title in just his second year on a works machine.
With the likes of James Toseland, Shane is one of the new breed of British Superbike racers. His promise evident at an early stage, Byrne has blazed through the privateer ranks to the top of the 'senior' BSB ladder in short order. The culmination of this was his impressive World Superbike outing at Brands Hatch this year, when he took a convincing double wildcard victory.
Shane is currently 26-years-old, making him the youngest British champion of the current era, roughly equal with Neil Hodgson three years ago. If he can follow Neil's example, which is surely his ambition, he could be a pace-setting WSB racer in a year or two's time, quite possibly with MonsterMob Ducati. Look out for him...
Shane Byrne's career summary
1988
Trials riding début; one win from four events
1993
Schoolboy motocross; four wins in five months
1996
Road racing début, with a Kawasaki; won first time out; broken wrist ended season early
1997
Club racing; Supersport 600 Champion; first national race win at Cadwell Park, on a Supersport Honda
1998
6th in British Supersport championship, on a Yamaha ThunderCat; won at Snetterton
1999 Harris Performance, number 50 Kawasaki
Shane began the season on a Honda in the Supersport class, but was soon drafted onto the Harris ZX-7RR for his first British Superbike experience. From round six of the series, he scored several points finishes, the best of which were two sevenths and two eighths. For the final round, at Donington Park, Shane rode the number 3 Team Kawasaki bike, finishing fifth and sixth. These results helped him onto 67 points, and fifteenth overall
2000 Harris Honda Britain, number 16 Honda
Although he missed some mid-season races through injury, Shane piloted the SP-1 to fourteenth position, with ten top ten results. The best of these were sevenths at Brands Hatch and Cadwell Park, and another fifth at the second Brands meeting. He scored 80 points
2001 Performance House, number 11 Suzuki
With an impressive twenty finishes in the top eight, including three fifths, plus fourths at Oulton Park and Brands Hatch, Shakey was easily the privateer champion. Indeed, he took the GSX-R750 to 22 class wins in a 26 race series. 204 points in the main championship were enough for eighth place in the final table
2002 Team Renegade Ducati, number 8 Ducati
For his first year on a full works Superbike, Byrne became a front-running regular on the 998 R TestaStretta. His first win came at a wet-dry Donington, in the first race of round three, and he was only beaten by team-mate Michael Rutter in the second. Other wins came at Knockhill and Thruxton, and he was in the top five for a total of sixteen races. With three fastest laps, his points total of 294½ placed him fourth
Also raced a number 55 Ducati in the British WSB rounds, finishing fifth, ninth and tenth twice

Shane Byrne in action during 2003 - photo by Raceline photography
2003 MonsterMob Ducati, number 4 Ducati
Taking over on the machine of reigning title holder Steve Hislop, Shane has wrapped up the championship with two rounds yet to run. An early season burst of nine wins in eleven races set him on course, and after race sixteen his tally of second places was at six. At this stage he was 135 points clear of Suzuki's John Reynolds, and a win at Cadwell Park proved enough. He has also recorded three pole positions and seven fastest laps
Also raced a number 67 Ducati in the Brands WSB rounds, winning both races. These results put him fifteenth in the championship after nine rounds