Shane Byrne in demand from MonsterMob owner Bird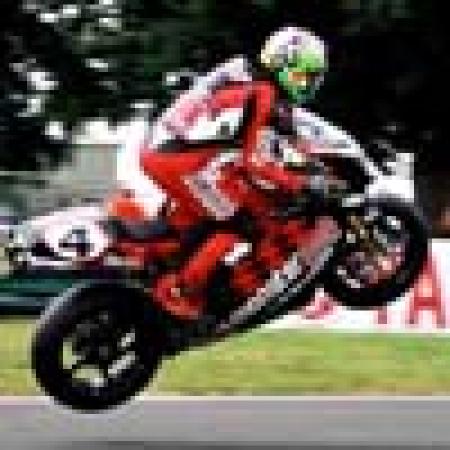 Raceline Photography
By blue2bikes
January 16 2005
It comes as no surprise that Shane 'Shakey' Byrne is in demand from Paul Bird, as he took the MonsterMob Ducati to an emphatic win during his 2003 British Superbike campaign. Shakey is on good terms with Paul, and likes the way Paul works.
Shakey has said that his wish is to stay in the MotoGP series, but with Aprilia not as yet signing anyone - and the longer this scenario goes on - it's looking more likely that Paul will get his wish.

Shane 'Shakey' Byrne in 2003 - photo © Raceline Photography
Although it is rumoured that Shakey has been linked to the vacant seat at d'Antín Ducati, he still remains unsigned, with Paul saying, "It has dragged on long enough. Shakey is our number one target, and if we can get him back that would be fantastic. If not, it looks like Gregorio Lavilla will probably get the ride. There are three riders we are talking to but these are our favourites."
Paul went on to say, "We are trying everything we can to persuade Shakey to return, and would be the best move in his career - although taking a step backwards and then hopefully take two steps forward the year after, with the leading manufacturer in the world - Honda."
Gregorio has been replaced by Nobuatsu Aoki at Suzuki, and is still looking for a 2005 ride. He first rode in the BSB Series at Thruxton last year, and a he was not a man to take things easy and went out to win on the Rizla Suzuki - which he was riding in place of the then injured Yukio Kagayama.
Aprilia still have their two places on hold for the MotoGP series, but it is looking more and more likely that those places will not be filled by Aprilia machinery.

Shane 'Shakey' Byrne in 2003 - photo © Raceline Photography
Shakey won the BSB title at the Cadwell Round in 2003, to rapturous applause in a tight finish with the now BSB Champion John Reynolds. Shakey's return to the BSB series would certainly be welcome for the spectators, and he would almost undoubtedly make the front row on many occasions, with a race win possible. Paul stated that an official announcement is imminent, so let's wait and see if we are going to have one of the best ever - if not the best - line-ups for the premier British series.
---
To buy the photographs shown above, visit Raceline Photography