WSBK's Frankie Chili to retire ar the end of 2006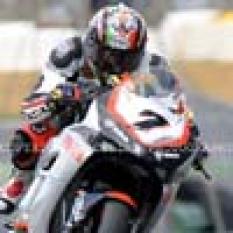 Raceline Photography
By blue2bikes
May 31 2006
The likeable and probably one of the best known faces in the world of motorcycle racing, Pier-Francesco Chili announced that he is to retire from racing at the end of this year's World Superbike series.
Speaking to Frankie at Silverstone over the Bank Holiday weekend, he said, "Yes, it's true, I will be retiring from racing motorcycles at the end of this year's series - but I shall be returning next year managing a race team, and i am looking forward to it. I have had a great time racing, and I have taken many injuries, and it's time to hang up my leathers."

Frankie Chili © Raceline Photography
Frankie was looking in great shape considering he broke his pelvis during testing at Misano, and was as usual signing autographs for his fans.
Frankie, having raced against the best riders in the world, will be sadly missed from the race track - but it is good to know he will still be around when the 2007 series begins, always giving his all for his adoring fans and so full of life. Whoever he manages will, I am sure, benefit from his vast experience of racing motorcycles.