Valentino Rossi wins chaos hit Catalan MotoGP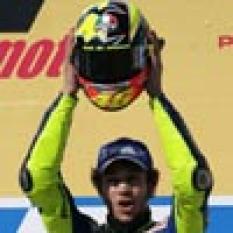 © Getty Images
By Dan Moakes
June 20 2006
Valentino Rossi was moving back into contention after a fine win at home in Italy, and the signs of Yamaha's turn around in fortunes were more than evident at round seven of the MotoGP World Championship, in Catalunya, as the champion placed his M1 on pole position.
The Montmelo circuit, near Barcelona, was scene of the latest Grand Prix - second of three Spanish races on the calendar. Five riders from the home nation would be on the grid, with round four winner Dani Pedrosa perhaps in with the best chance on his works Repsol Honda. But in a very close qualifying session no Honda RCVs made the first two rows. Five of the six were within a second of pole, but all of the other five makes were represented before Honda.
Rossi's fastest time placed him on pole for the first time in 2006, but the 41st of his GP career. Camel team-mate Colin Edwards was back in twelfth. Suzuki's best dry weather qualifying had put them second and fourth, with 23-year-old John Hopkins heading Chris Vermeulen - about to turn 24. Kawasaki and Ducati were well represented by, respectively, Shin'ya Nakano (fifth) and Loris Capirossi (sixth), but the big story was third place for the Honda-powered Team Roberts/Proton bike of Kenny Jr - the third race with their new chassis.
Honda men filled row three, with Nicky Hayden (Repsol) heading Casey Stoner (LCR) and Marco Melandri (Fortuna). The equal points leaders Capirossi and Hayden thus had five men ahead of them. Tenth went to Randy de Puniet (Kawasaki), from Pedrosa, Edwards, Sete Gibernau (Ducati), Toní Elías (Fortuna Honda), Makoto Tamada (JiR Honda), Carlos Checa (Tech 3 Yamaha), Alex Hofmann (d'Antín Ducati), James Ellison (Tech 3) and José Luís Cardoso (d'Antín).
Notably fast off the line for the race start were Stoner and Nakano, with the Australian up seven places to lead, and Shin'ya slotting into third behind Rossi. However, chaos reigned when the field approached the end of the long straight and reached the braking zone for the Elf right-hander, or turn one. The two Marlboro Ducatis of Capirossi and Gibernau came together and Sete, on his team-mate's left, was flipped when the brake lever was pulled on by the contact. Melandri, on the other side of Loris, was also caught up, and both Pedrosa and Hopkins were involved as the other bikes piled into them from behind. De Puniet was another innocent victim.
These six riders all ended up in the gravel trap on the outside of the corner, with Gibernau, Capirossi, Melandri and de Puniet out on the spot. The first three had picked up injuries, although thankfully not too serious; but Marco lay unmoving for some time before the medical team could stretcher him away. His main problem appeared to be with a hurt shoulder and, with all three not re-starting, the relevant teams would need to consider whether their riders would be back for the following weekend or not.
Meanwhile, Hopkins had gone as far as impacting the tyre barrier, but managed to get his Suzuki going again; and Pedrosa, despite a second fall in the gravel, also got back round to the pits. The race had been red-flagged after one lap, with Stoner, Rossi and Nakano leading Hayden, Vermeulen, Roberts, Tamada (seventh from P15), Elías, Edwards, Checa, Cardoso and Ellison. The field would go again from scratch, but with Gibernau, Melandri and Capirossi taking no further part in proceedings. These absences would certainly play into the hands of Hayden, Pedrosa, Stoner and Rossi in the points chase.
The delay allowed bikes to be readied for Hopkins, de Puniet and Pedrosa, but gaps on the grid meant that Edwards in particular had a big gap to aim for. But after the warm-up lap came more concern, this time with Vermeulen pushing his machine off the left-hand side of the grid. Another delay meant another warm-up lap, and some riders' tyres had therefore already done seven circuits, including in and out laps, before even embarking on the race proper.
Vermeulen was in-situ as the final race re-start was signalled, and this time Hopkins got away well to lead, only for the impressive Stoner once again to move quickly into first. Hayden and Roberts were next, with Nakano soon passed by Rossi for fifth, and then Vermeulen relegating Elías. Tamada, Edwards, Pedrosa, de Puniet and Checa followed on. Disappointment would soon arrive for Nakano who, despite not moving up as in the intial start, was adjudged to have jumped the start. A ride-through penalty was his reward.
As Stoner looked to be moving clear, the early race was on for second, between Hopkins and Hayden. The Honda man moved in front at Elf, only for John to get it back at the right-looping Repsol turn, named for Nicky's team sponsor. Hayden re-established himself in P2 as the field began to stretch out in small increments. Roberts led Rossi, with Nakano soon losing out to Vermeulen and then Elías - the latter on the main straight. Toní went on to attack Chris at Elf.
With Rossi aiming to work on his 34 point deficit to Hayden and Capirossi, the champion was soon on the move. He passed Roberts on the way into Repsol, setting fastest lap as he joined battle with Hopkins. He made the move happen on the way out of Renault, the long right-handed third turn, which leads to Repsol. Despite a noticeable twitch, Valentino then closed in on second man Hayden. And he made his next place from the 24-year-old at Elf, passing on the brakes for the inside of the corner.
By this stage, Stoner, Rossi, Hayden and Hopkins had gone clear of Roberts, and he had also eased beyond the reach of Vermeulen and the rest. Pedrosa was progressing, and had got by Edwards, Tamada, Nakano (at Elf) and Elías to head the pursuit. Nakano had already dropped four spots since lap one, and was now given the black flag for not taking his penalty. He pulled into the pits just as Kawasaki team-mate de Puniet was crashing out, and this left just fourteen runners.
Rossi completed his journey by passing Stoner a lap after Hayden, and with the same move at the Elf corner. Hopkins was now dropping into the clutches of former team-mate Roberts, leaving just three men up front. But that became two, as Stoner crashed when the rear of his Honda spun out on the lowside at la Caixa, a tightish left at the end of the back straight. He was soon joined by sixth man Elías, who made a similar mistake and left a twelve-man field.
The race was now between Rossi and Hayden, with Hopkins, Roberts and Pedrosa forming a group disputing third. But Dani became yet another non-finisher, crashing when the front folded under him. He got on again, but only to join Stoner back in the pit garages. So two pairs of riders led the field, with Vermeulen in a clear fifth behind Rossi-Hayden and Hopkins-Roberts. It was only half-distance when Kenny took his Proton into third on the outside at Elf, and before long Edwards had moved into range to take Vermeulen's place there, but on the inside.
The laps ticked on, and Rossi's lead over Hayden was only ever growing. With two to go, the margin was out to 2.7s, and Nicky had to settle for another second place. The final tour saw Valentino slide the Yamaha and smoke the rear Michelin more than once, as he celebrated another consummate performance. Hayden was unchallenged at the flag, but the race for third had been on until fairly late, with Roberts movind ahead for a second time at Elf, and then pulling the margin he needed for a 21st career podium - but the first for the KR211V.
Hopkins equalled his season's best in fourth, with Edwards home in a solitary fifth. Vermeulen made his first GP top six, with four of the other five finishers also getting their best results of the year, thanks to the eight missing runners. Seventh man Tamada was the exception, as he led home Checa, Ellison, Hofmann and Cardoso.
Valentino Rossi and Yamaha were truly back, but the consistency of six-time podium finisher Nicky Hayden - plus his rivals' misfortunes - saw the American rider into a clear championship lead. Rossi's win took his tally of top class points past the 2000 mark, to 2007; and for Kenny Roberts, his milestone result broke the 1000 mark, with 1005. Absence from the results for Loris Capirossi, Marco Melandri, Dani Pedrosa and Casey Stoner allowed Rossi to get right into the equation. But in Pedrosa and Stoner's cases, their accidents had been avoidable - and Dani in particular might have climbed to second overall. However, an eventful race is all you can hope for, and that was certainly what we got here.
Standings after seven races: Hayden 119; Capirossi 99; Rossi 90; Melandri 89; Pedrosa 86; Stoner 65; Edwards 60; Elías 53; Tamada 49; Gibernau and Roberts 44; Hopkins 40; Nakano 37.
Honda 151; Yamaha 119; Ducati 99; Suzuki 54; Roberts-Proton 44; Kawasaki 37.