Well...I guess I'm just a little po'd....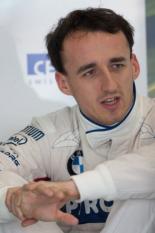 Git er Done!
By mikel
February 26 2011
Don't know about anyone else, but I really saw this one coming in from 1.54 kilometres away...which doesn't make me or anyone else prescient, however I am simply fucking observant.
Hey everyone! Welcome back to SauberF1talk !
So...the big development this week was the (surprise) cancellation of the Bahrain GP 2011. Wow. Didn't see that one coming! Good to see that the Big 'B' Buzzo's got his ear on the asphalt, and wonky eye on they money...uh, issues in the middle east.
Don't know about anyone else, but I really saw this one coming in from 1.54 kilometres away...which doesn't make me or anyone else prescient, however I am simply fucking observant. In
I don't wish to get all political here either...this is an F1 fan site after all...however the potential political unrest as we observe today, especially in Libya, should be an example of where NOT to host a GP in today's F1.
Great Britain has a constitutional monarchy...however, they are all show and no go. They smile and wave, make the rag paper's I guess, I don't know. The Windsor family has no influence on the British public...good or bad, and I won't slag 'em here cause I thought Diana was cute. Really cute.
So...Bahrain, like Saudi Arabia, and Libya, and Abu Dhabi, ( and just about every other UAE nation) have a 'legacy royalty', a monarchy...a small bunch at the top, and everyone else at the bottom. Nice life I would think...if you can get born into it. Unfortunately, not enough can, as we watch this all unfold 24-7 on our monitors (I don't watch tv anymore, so I see this all faster than 'broadcast tv').
So why did the Big 'B' Buzzo head off to the middle east then, if there were potential uprisings that could affect the F1 calender you ask? Easy answer...the potentates control the money, and the people, and are therefore able to line his pockets with 'royal' cash.
Doesn't get much easier than that...not like there's much debate about it in parliament or anything, one of the multitudes of Princes,(God forbid, maybe the King himself!), says to get it done, and sure enough...many hundreds of millions later, it is done.
But, have you actually watched some of these races? There's almost nobody there! Stands are less than half full! Absolutely NOBODY inbetween (like in general seating). So whats up with that?
It goes back to the Big 'B' Buzzo...he doesn't care about who may or may not show up, how many 'paid for' bums are filling up the 'said' venue...he does'nt care...he really does'nt. He only cares about how it looks on TV...for the rest of us dumbasses that can't afford to flit about the earth to watch car's go super fast.
He make's huge money on distribution of the race...he doesn't give a crap one way or the other if anyone shows up for it...however the 'host' country must pony up the bucks just to get face time with the man.
Which is why we ended up with our situation in Bahrain...civil unrest the the 'constitutional monarchy', and unfortunately now, all the shit that comes with that line of thought.
Don't forget, if you've actually gone to a GP, they no only take Mastercard and VISA...they also take American Express...
Anyway, Kubica is doing well, and will be starting full on rehab very soon.
Our prayers are with you Robert.
Sauber, funny enough, had a reasonable test last week...with both Maldonaldo and Koybashi both in the cockpit .
A few niggling issues...nothing big for either, Pastor racked up some great lap numbers...but again hard to say where we stand.
Guess we gotta really wait till the first GP to really find out where we stand...and we start in Australia!
As we should.
Got any issues with my rant...post em...
mikel