Weather, Tires Fall In Vergne's Favor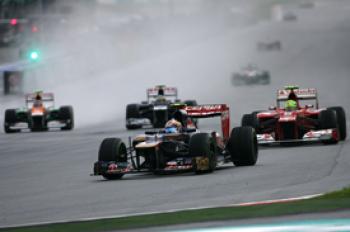 By Andrew Cutler
March 25 2012
As often happens at the Malaysian GP, on-again, off-again rain was the order of the day, putting a premium on tire selection, timing and wear, as well as wet weather driving skills. Of Scuderia Toro Rosso's driver duo, rookie Jean-Eric Vergne would have the better luck in these matters on Sunday, allowing him to score his first-ever championship points in only his second F1 Grand Prix.
Eariler in the week, the Frenchman stated that he would prefer to have a wet race at Sepang, and he made good on the situation when his wish came true. As the rain started just prior to the formation lap, both Vergne and Daniel Ricciardo started the race on intermediate tires. When the showers became heavier as the laps progressed, Ricciardo pitted on Lap 4 to switch to full wet tires: STR was ready to call Vergne in on Lap 9 - by not pitting yet he was in the top ten - when the GP was Red Flagged for just less than one hour, 'gifting' the squad a chance to make the change on the front stretch without losing valuable track position.
Once the race resumed, the constant threat of further wet weather kept the whole paddock guessing as to the right tire strategy: a couple of times resulting in the 'traffic jam' in the pit lane as several competitors dove in for a change simultaneously. Through it all, Vergne and STR kept making the right choices at the right times, allowing him to finish in the 8th spot, garnering his first 4 F1 WDC points.
Ricciardo would not be as lucky in the tire 'guessing game', falling back as far as 18th before eventually clawing his way back to finish in the 12th spot.
Afterwards, Vergne said; "To go from eighteenth on the grid to eighth and in the points at the end is great. I stayed out for a long time on the intermediates after the start and then the Red Flag came along to help me so I was able to switch to extreme wets on the grid. ... I am happy to settle for this eighth place and I plan to keep improving step by step. After these two opening races, the overall performance has been quite good and I feel we can make progress in China starting from this good base line."
Team Principal Franz Tost noted; "As is often the case in Malaysia, we witnessed a very exciting race in which Jean-Eric did an excellent job as it was the first time he has raced a Formula 1 car in wet conditions. He made no mistakes and produced really good lap times and so this eighth place is well deserved. These four points are also the result of excellent work from the team, making the correct decisions as regards pit stops and tyre strategy as well as managing the complicated situation while the race was suspended. Daniel lost too much time in the early stages of the race to fight back into the points, but his lap times in the later part were very good. The STR7 performed quite well this afternoon in both the wet and the dry and finally congratulations to our engine partner Ferrari for this important win."
More Scuderia Toro Rosso headlines
Scuderia Toro Rosso Poll