No Points From Austin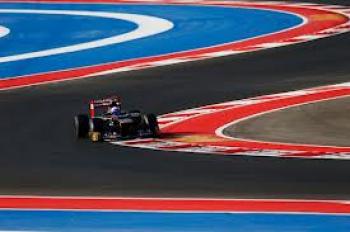 By Andrew Cutler
November 19 2012
Scuderia Toro Rosso gave it their all at the new track deep in the heart of Texas, but just couldn't find a way to make it pay off in terms of collecting more championship points. It was a weekend of struggles and frustration, but everyone in the squad is confident that they gave it their best possible effort.
In the end, daniel Ricciardo would finish in 12th place, while Jean-Eric Vergne would be the first car out of the race after suffering a suspension failure.
Here are the team's post-race comments:
Daniel Ricciardo:
"I think I overtook more people in this race than in any other in my whole career! It was particularly fun at Turn 1, which became a favourite passing spot for me, especially one lap when I managed to pass two cars at once. Until today, the whole weekend had not gone that smoothly and of course, I was particularly disappointed with how qualifying went yesterday. Because of that, I was even more determined to go well today. I gave it everything I've got this afternoon, although it was not enough to finish in the points, but twelfth was probably the best result we could have got today. At the start, the dirty side was indeed very slippery and the two Marussias got ahead and I touched with one of them. I thought I'd damaged the front wing, but I managed to keep going as the car was okay and after that I think we got the maximum out of the car. It was very competitive on the Option, but once I switched to the Prime it seemed that tyre also worked better than expected, which meant I lost some of the advantage we had hoped to have by running a very long first stint. Deep down, I know I did my best."
Jean-Eric Vergne:
"I got a really good start and I had about a tenth of a second to decide whether to go to the left or the right going into the first corner. Everyone seemed to be going right, so I went left aiming for the inside of the hairpin, as I was much quicker. But it didn't pay off, because I lost many positions and got stuck behind other cars and therefore could not warm up my tyres properly. Despite this, I was able to fight and make up some positions. Unfortunately, the suspension broke and the team told me to park the car rather than risk bringing it back. A shame, as this new circuit is fun to race on."
Franz Tost, Team Principal:
"First of all congratulations to Red Bull Racing on securing the Constructors' championship this afternoon. It leaves the way clear for a thrilling final battle for the Drivers' title in a few days time in Brazil. As for our race, Daniel produced a good performance, given that after his qualifying was compromised by yellow flags, he came from eighteenth on the grid to twelfth at the chequered flag. It was very tight in terms of pace between ourselves, Sauber, Force India and Williams. We chose to run long on the Options as the car was running competitively on these tyres. Daniel did everything he could to close the gap to those ahead when he was on the Prime and managed to get near to Perez in the final stages, but there were not enough laps for him to pass. With Jev, we had a suspension problem and told him to park the car. We still need to investigate its cause. We have one more opportunity to pick up points this season as we head for Sao Paolo and what is often an exciting and unpredictable race."
View a Printer Friendly version of this Story.
No Points From Austin
strracing (IP Logged)
19/11/2012 14:32
What do you think? You can have your say by posting below.
If you do not already have an account
Click here to Register
.
Sorry, only registered users may post in this forum.
More Scuderia Toro Rosso headlines
Scuderia Toro Rosso Poll