Big plans afoot for digital F1 magazine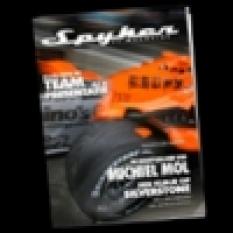 By Huw Alban
January 22 2007
F1Racing.net broadened the coverage of Spyker F1s launch of a digital magazine by publishing Michiel Mol's words on the subject, but only on the Dutch branch of their F1 news website. Spyker F1 Fans Online (the teams unofficial fan website) is going to correct that...
"It is the intention that this becomes largest F1-magazine in the world", Mol has been quoted as saying to the popular F1 news website and sponsor of Spyker F1.
F1Racing.net claims that the magazine will be published in three languages; Dutch, English and German, and will be available the day after each race throughout the Formula One season.
"Beside news, on the spot reports, columns and other illustrated features, this magazine will use all the possibilities which the Internet can offer", Mol continued.
Interactive components, streaming video, sound and fan feedback should made this venture pretty unique according to F1Racing.net and a must for anyone interested in the sport in general. The only other teams to do anything similar have been Red Bull Racing and Torro Rosso, who produce an online bulletin 4 times a season.
Despite the launch of this venture and the extra information provided by F1Racing.net, there has been some negative comment on our especially around the use of the free subscription to allow Spyker to push out vast amounts of advertising material to subscribers inboxes.
We here are Spyker F1 Fans Online, are preferring to judge that particular move as and when the magazine gets going.
Interested fans should click on the banner below to go straight to the Spyker F1 subscription page (warning - opens in a new window).
More Force India headlines
Force India Poll