Alternate Tire Compounds Come to IndyCar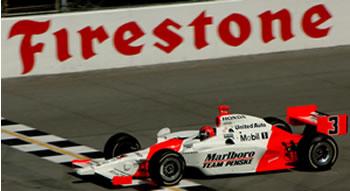 By Andrew Cutler
March 27 2009
The practice first appeared in the now defunct CCWS. Then it showed up in Formula One. Now the use of two different tire compounds per race will become a part of the seven road and street races in the 2009 IndyCar Series campaign.
Bridgestone Americas Motorsports, through their subsidiary, Firestone, will provide three sets of alternate - meaning softer - compound Firehawk tires to each car per race weekend, to be used alongside the standard compound sets. These softer tires will bring increased speeds, but at the price of a shorter tire "life". The alternate compound tires will be distinguishable to the fans by their bold red sidwalls.
Each car will be required to use one "sticker" (previously unused) set for a minimum of two laps at some point during the course of the race. Given the "knockout" qualifying format that is used for road/street circuts, the teams will also have to work out the best strategy for their use in the quest for the best possible starting grid slot.
Al Spyer, the Executive Director of Firestone Racing, is confident that the use of alternate compund tires will bring a new level of excitement to the road/street races. "Bridgestone Americas Motorsports pioneered the alternate tire concept and introduced it to competition at the 2004 Toyota Grand Prix of Long Beach (a CCWS event in those days). Since that time, the idea has evolved and has been applied in other forms of motorsports. We are further tweaking the program for the IndyCar Series this season, and it will be entertaining to watch as it unfolds. It's quite a task to develop, test and approve for use a second Firestone Firehawk tire compound for seven very different racetracks. But we believe, and many agree, that the alternate tires will contribute another element of excitement to IndyCar Series racing."
Alternate compund tires will not be used at the oval races on the IndyCar Series schedule as the tire sidewalls need to be firm enough to withstand the cornering pressures placed upon them.
View a Printer Friendly version of this Story.
Alternate Tire Compounds Come to IndyCar
Indy Racing League (IP Logged)
27/03/2009 12:19
What do you think? You can have your say by posting below.
If you do not already have an account
Click here to Register
.
More IndyCar Racing headlines
IndyCar Racing Poll