Ferrari can still win the championship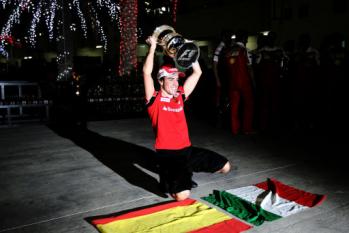 Alonso can!
By Jay
July 17 2010
With 113 points adrift in the constructor's championship for team Ferrari and 47 points in driver's championship for Alonso, there is still a possibility of the Maranello based team to bag both the championship.
The point difference looks huge with the current points system, but it is marginal if we consider the earlier point system.
With the earlier point system Alonso would be only 21 points behind Lewis Hamilton, the championship leader.
However, with 9 more races to go, and examples of drivers in the past like Kimi Raikkonen in 2007 and Michael Schumacher in 2006 overcoming similar leads to win and level scores with the leaders in final races, does gives a possibility of Alonso to mount a challenge for the championships.
The F10's upgraded version is also right up there with the Red Bulls's car, as it showed good pace during the qualifying in the last two races, only to be bogged down by some bad luck and mistakes from the drivers.
The car is now also capable of handling the faster corners, a stronghold of Red Bulls, better than earlier.
If we look at the remaining tracks for the 9 races to go, there are only two tracks with faster corners viz.., Suzuka and Spa, which plays to Red Bull's advantage.
With Mclaren struggling with their blown diffusers, while F10 having fine tuned it, and more upgrades to arrive in Germany and Hungary, there is good possibility of Ferrari coming good in the second half of the season.
With Felipe Massa still coming to terms with driving to his full potential, it wouldn't be a suprise if Ferrari shifts their entire focus on Fernando to win and Felipe to finish in good point finishing position.
Fernando Alonso would be expected to make no mistakes though in the remaining races.
With trouble brewing at Red Bull between their drivers, and Mclaren going even on their drivers, Fernando Alonso would thus have advantage of the whole team's support to win the championship unlike his rivals, if Ferrari decides so.
Team boss, Stefano Domenicali, exuded confidence in the team winning the championship.
"Anyone who does not believe that we can win the world championship would do better looking for another job," said Domenicali on the team's official website.
"No-one here is giving up. There are still nine races to go and anything can happen.
"We will have to do our job perfectly, that is to say the Ferrari way, and then the results will come."
While Fernando Alonso said that he convinced, ever after no points scored at British GP, that he can still win the championship.
He said: "I am more convinced than before this race that we will win the championship."
With Bridgestone set to introduce extreme set of tyre compounds at the next race viz., Super Soft and Very Hard, Ferrari, who are gentle on their tyres, can look forward to a good performance from it's team.
-----------------------------------------------------------------------------------------
Today's hot topics under discussion
1) German GP
2) British GP
2) Ferrari Car Development updates
4) Is Alonso making too many mistakes?
5) Adjustable Rear Wing for 2011 Season
Join us on our discussion forum