Alonso hopes for lucky break in Valencia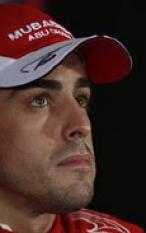 Needs some luck
By Tifosa
June 22 2011
Fernando Alonso remains confident that Ferrari and he can win a race soon-with a little bit of luck. The double champion is hoping that a reversal in fortunes, along with the continued upswing in Ferrari's performance can bring victory to the team at Valencia this weekend.
Speaking on Ferrari's official website, Alonso sounded positive and optimistic that victory wasn't too far away for the Scuderia.
He also hoped for some good luck and fortune. "To tell the truth, I've never been that lucky in this race since it's been held on the Valencia street circuit, especially last year when, despite having a very competitive car, I finished down in eighth place."
"I always believe that luck and bad luck balance out by the end of the season and maybe this unwritten rule also applies to race tracks. If that's the case, I would be more than happy if last year's misfortune was paid back now! In fact, it seems that in general so far this season, luck has not come our way in the race in Montreal, not one damned thing went right."
"I know that our fans are eagerly awaiting our first win of the season and I can assure you that the same goes for us. At the last two races, we showed we were clearly capable of winning and, especially in Monaco, we came pretty close, although I believe that even in Canada I could have fought for it all the way to the end, given what we had seen in qualifying," he said.
"Now we go to a track with reasonably similar characteristics to Montreal and there is no obvious reason why we should not be competitive here too."