Alonso gets a Zero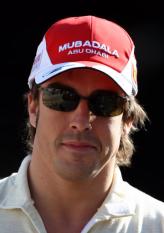 By Jay
December 28 2012
Fernando Alonso not only ended up as runner-up in the 2012 season Championship, he also got a Zero.
The Ferrari's ace Spanish driver, ended up getting zero penalties in 2012.
The 2xWDC drove perfectly and if there had been an award for fairplay, he would have surely won for no penalties or infractions.
Meanwhile, Pastor Maldonado, with a single win this season, managed to steal the title of Penalty King with a total of 15 penalties.

The runner-up to Maldonado in this race was now ex-Sauber driver, Sergio Perez with 8 penalties, while world champion Vettel matched it with as much official infractions.
This list of drivers with most and least number of penalties were done by Brazil's Globo Esporte.

Alonso's zero penalties was matched by one more driver, German backmarker Timo Glock.
Discussion Forum - Hot Topics