The visit of an EJ13 to Caffrey's pub & restaurant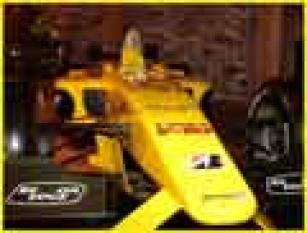 EJ13
By Shane Murphy
March 1 2005
The EJ13 arrived by 6pm in what can only be described as a horse box - far from the big yellow Danzas transporters that it was used to a few years ago. When the doors of the transporter were opened, a few F1 fans just oogled at what was before them. One of the cars that Fisi & Firman drove in 2003. "Could it have been the one that Fisi raced to victory in Brazil?" was one question that went though my mind. The car didn't make a grand entrance due to the fact that it arrived on it's side on two rollers through the restaurant doors. The car, without engine etc didn't take to long to be rolled into the pub, lifted up a few steps & eventually placed in the top corner. A few furniture movements here and there & the car was set for the night.
Then it was time for us all to just look and admire when the nose cone was attached & screwed in place. Then the examination began, with the odd touch of a tyre, suspension bar or piece of aero. The the cameras were taken out & the snapping began. A few staff members appeared for a look - even the chef was brought in to help in the carrying of the yellow racer. Have a look at several of the photos in the photo gallery - http://www.bigpip.co.uk/cpg132/index.php?cat=1 [Link also on left side of page].
The car had been used previously for a promotion photo shoot for subscribtion sports channel Setanta Sports who have the TV rights for Formula One in Ireland for 2005 onwards. Sadly RTE will no longer cover the sport. There were still two Setanta Sports stickers on the engine cover. This did take away from the overall look of the car, but we all learned to live with it for the hour we had alone with it before the barriers went up and the public were let in. There was talk that Setanta was looking for the car for another day, but Meath & District Motor club & Caffreys pub won out in the end.
I had a look to see if there was any spare wheels that I could sneak into my boot, but sadly the car didn't have any spares - sorry basman. A great night was had by all, especially Dan.ie.
This one's for you bassman