Johnny Herbert joins Jordan / Midland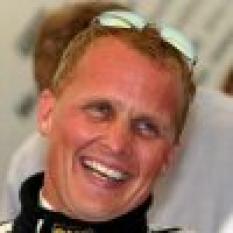 By Phil Giles
July 28 2005
Johnny Herbert. Yes, the Johnny Herbert, one time winner of the British Grand Prix has joined Jordan / Midland as the team's Sporting Relations Manager starting immediately.
In a bold move for the rookie Midland team, Colin Kolles who has clearly been looking to fill the void left by Trevor Carlin said that "His experience and knowledge of motor sport will be of great value to us as we continue learning and moving forward."
Johnny Herbert is a British sporting hero and "His involvement will add a positive dimension to every aspect of our operation and we are all very happy to have him aboard."
His role will encompass driver responsibilities, Media, Partner and Sponsor relations. Although I'm still waiting for his first "Would you mind taking that down" email.
"It is an honour and a pleasure to be back in F1 racing with a team I feel so familiar with. Although I never drove for Jordan in F1, it still feels like a homecoming of sorts," added Herbert. Johnny drove for Eddie in F3 and Formula 3000.
"At the same time, I am excited about my new role and look forward to contributing as much as possible as the team repositions itself as Midland for the 2006 season. Management and I have discussed plans for the launch of Midland F1 and I'm thrilled to be involved at the inception of such a dynamic and ambitious project."