And you thought you couldn't pronounce Karthikeyan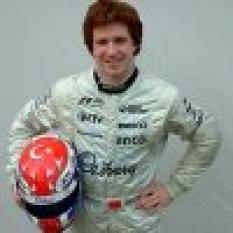 By Jordan Press Office
August 10 2005
Jordan has announced that Jason Tahincioglu, who currently competes in the Formula Renault UK Championship, will become the first Turkish driver to pilot a F1 car in front of his home crowd at the inaugural Turkish Grand Prix next week.
Tahincioglu will perform a demonstration run in a Jordan-Toyota EJ15 on race day, mirroring a feat accomplished by Hungarian driver Zsolt Baumgartner at the Hungaroring in 2002 with Jordan.
"We are extremely happy to give this fantastic opportunity to Jason, a young, bright and quick driver who has shown his talent in the Formula Renault British Championship," said Jordan managing director, Colin Kolles.
"Being the first Turkish driver to ever drive a F1 car, especially in front of his home crowd on a brand new circuit, will be an experience he will never forget."
Tahincioglu said that he was delighted with the opportunity, adding that he felt confident following a shakedown test at Silverstone with the team's EJ15.
"First of all, I would like to thank Jordan Grand Prix and my Turkish sponsors for helping me organise a shakedown at Silverstone in order to familiarise myself with the car and the team before the demonstration run in Istanbul on Sunday before the GP," he added.
"Considering the fact that it was the first time I have driven a F1 car and the limited amount of running I have done, it was very useful to get used to the car's acceleration and braking. To be honest, my initial thoughts were that the car was quite impressive. I was amazed at how different it was from anything I had ever driven before. Obviously after a few runs, you get used to the speed and the braking. But what you have to do, as a professional, is the best job you possibly can. Perhaps I am the first Turkish driver to experience a F1 car and all the excitement that comes with it, but I still approach this programme as a professional, communicating with the engineers and mechanics.
"To be running in front of my home crowd will be an amazing scenario. After all, having a Turkish driver driving a F1 car on his home track is what the Turkish people and fans dream of seeing. It will be a great buzz and I am hoping that I, along with Jordan Grand Prix, will put on a good show and that we will have a fantastic outcome."