Jordan 15b comes home at Monza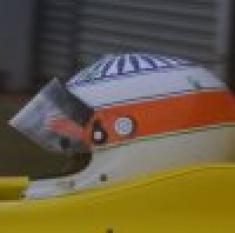 By Jordan Press Office
September 5 2005
Narain Karthikeyan had a hectic start in the 2005 Italian Grand Prix when he had a contact with Albers at the first corner. This resulted in a punctured left rear tyre and affected the rest of his race. Starting from the 17th position on the grid, Tiago Monteiro had a good start and drove strongly throughout the race to finish his 15th consecutive Grand Prix.

On lap 34, after going off the track, Karthikeyan had to pit twice for car examination. Despite some problems with tyre performance, the team is satisfied to bring both cars to the chequered flag and is looking forward to bringing two EJ15B cars to Spa next week.

Tiago Monteiro: 17th

"We finished another race which is good for the reliability of the new car but I am really disappointed as this was a really tough race right from the start. I lost some part of my bodywork so the balance of the car was affected and then the tyres got worse and worse."

"This was a big surprise to us as we were quite happy with them at the test last week and at the beginning of this weekend. I do not understand how the tyres could act like this. I am not happy with this race at all as the car was very difficult to drive at such a high speed circuit."

Narain Karthikeyn: 20th

"I made a good start but unfortunately Albers stupidly hit me in the rear at the first corner, which punctured my left rear tyre. It is really a pity as he has already done this to Tiago in the past. This is a long lap here so it took me a long time to come back to the pits to change tyre."

"Because I damaged my tyres in my accident yesterday, I had to use a very old set and therefore I knew this was the end of my race. However, I am still happy that I managed to finish the race and I hope we will have a better result at Spa with the new car."

Adrian Burgess, Sporting director:

"It was an exciting race as ever. Both cars had good starts off the grid but unfortunately, at the first corner, Narain was rammed from behind, resulting in a left rear puncture, which effectively finished his afternoon in terms of having a good battle with everyone. Tiago kept his head down and got on with his job."

"However, both cars struggled with tyre performance, which hampered them all the way to the end. Narain had a small off near the end in the gravel which meant we had to have another stop for precautionary checks, as we did not want to endanger him or the car."

"Both cars went to the end; 15 out of 15 finishes for Tiago. Now we are looking forward to gaining more performance out of the B-car as we get more mileage and data from it. We will have two EJ15Bs at the next race so we are happy with that prospect."