Jordan: Strategy or Suicide in Qualifying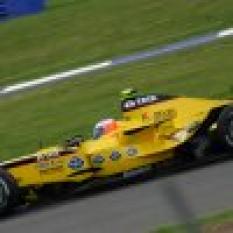 By Phil Giles
September 10 2005
Jordan Grand Prix are forecasting rain for tomorrow's Grand Prix at Belgium's Spa-Francorchamps circuit. The team adjusted their ride height and wing setting for wet conditions in the race and may have compromised their chances if it stays dry tomorrow.
Narain Karthikeyan was first out in the EJ15B. He posted the sessions slowest time of 1m51.675s and ended the session in 20th place. Tiago was slightly faster but qualified in 19th. Jordan therefore starts the race at the very back end of the grid behind the Minardi's of Albers and Doornbos.
Narain said: "Considering the fact that I was the first out on the track in qualifying this afternoon, I had a decent lap but unfortunately the limited track time we had yesterday affected us a little bit today. The circuit conditions were pretty similar to this morning and the balance of the car was better. Rain is expected for tomorrow's race, so hopefully it could be a good Grand Prix for us."

Tiago commented: "I'm not really satisfied with my lap time even though I had a relatively clean lap. The EJ15B clearly has some potential but we definitely need some more running time as yesterday we only did a limited number of laps. We still have the race ahead of us and I'm looking forward to that; especially as it is supposed to rain tomorrow and we may have chance to do well."

Adrian Burgess was hopeful. "The times today do not look great on paper but tomorrow is another day." he said after the session ended. "We expect the conditions to be completely different and we are focussing more on the race than on today's results, so let's and see what happens tomorrow."
So it's either a brilliant strategy helping the team to a points finish or it's another wasted weekend for the Silverstone squad.
Testing: It appears that the team will be at Silverstone and Anthony Davidson will be testing the EJ15B in it's suggested preparation for a race seat with Midland in 2006.