Jordan brings one home at the end.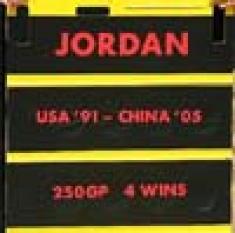 By Phil Giles
October 16 2005
And that's that then. The Jordan name is assigned to the record and history books of Formula One. As this season's World Championship comes to an end in Shanghai, the most colourful and approachable team in the sports recent history will fade into the mist.
Far from fading into the mist was a spectacular accident involving Narain Karthikeyan in today's Chinese Grand Prix. On lap 29, Narain's EJ15B left the circuit at turn 13, after he ran wide on rubber "pebbles" from the tyres. The car's grip level was dramatically reduced and he ran further off onto a strip of astro turf. Unable to control the car he hit the tyre wall, ripping the right hand side of the car to shreds, ending up on the opposite side of the track and bringing the safety car out for the second time in the race.
Running in 13th place at the time of the collision, it was good to see that he was able to get out of the car unaided although Mark Blundell commented at the end of the race about why it took so long for the Marshall's to get to Narain's aid. The rear of the car clearly alight. Narain was checked over at the circuit's medical centre but was given the all clear very quickly.
Tiago Monteiro again had a belter of a race finishing his 18th race out of this seasons total 19 races. A deserved winner of F1 Racing Magazines "Rookie of the Year" award. He brought the car home in 11th place, one in front of the Ferrari of Rubens Barrichello.
Driver Quotes when available.