Jordan may return in 2008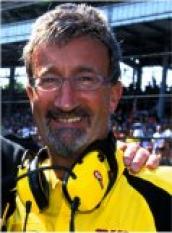 By Phil.Giles
April 2 2006
Eddie Jordan has submitted an entry to the 2008 FIA championship, according to former Jordan technical director Gary Anderson who spoke exclusively to Irish Sports Broadcaster Setanta Sports. Anderson revealed that he has been in contact with his former boss, discussed his plans, and added that there is a possibility the Jordan brand name could be set for a dramatic return to Formula 1.

The former team boss sold his Jordan Grand Prix Racing team to the Midland group at the beginning of last year.

"As far as I am aware he has put an entry in," Anderson said.

"I have spoken to him in the last couple of weeks and that was his plan.

"We just have to see what happens now in terms of acceptance of entries and that won't be known until the end of April (28th).

"So whether there is any merit in it, it's difficult to know."

Twenty two applications have been received by the FIA, but only 12 will be allowed take the grid in 2008. But, given that there are already 11 teams involved at present, there is only one free slot up for grabs between all 11 extra entries.

However, Anderson believes that the FIA president Max Mosley's cost cutting plans are the reason Jordan is interested in submitting a team.

"If Max Mosley does what he is talking about with the costs of Formula 1, it would leave an opportunity for an independent team to come in and do a competitive job again, to try and level out the manufacturers and the independents as such.

"In saying that, I think you'll still need a manufacturers' assistance with engine supply etc., but that's possible.

"Eddie sees it as an opportunity to get back into something that he loves and to be competitive. There's no point in not being competitive, which is where we were stuck during the last few year's at Jordan."

The man once described as "Jordan's other half" also believes that if the Dubliner gets the green light, his surname could once again be mixing it with the likes of Ferrari, McLaren and Williams.

"I think that would be his plan if everything comes off and he officially gets an entry," he added.