Q3 For Riccardo: More To Come?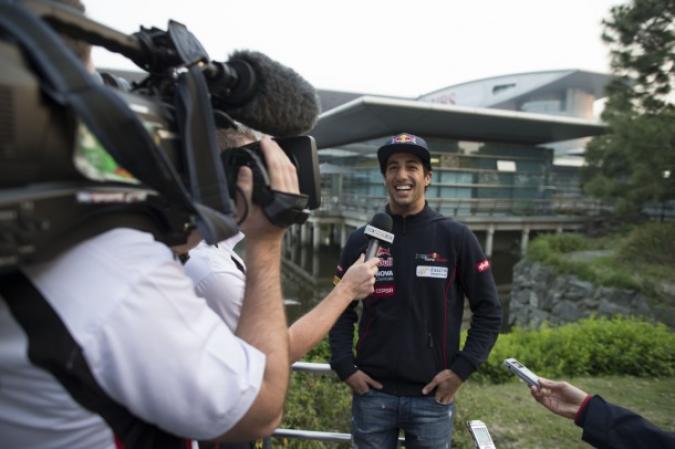 By Andrew Cutler
April 13 2013
For the first time since Bahrain last April, Scuderia Toro Rosso has guided Daniel Ricciardo through to the final round of the knock-out qualifying format. The Aussie would ultimately lay down a lap that was good enough for the 7th starting grid position - after taking into account that three of his competitors didn't even post a serious lap in the session.
Meanwhile, things did no got nearly so well for Jean-Eric Vergne, who barely slipped into Q2, and then was not able to lift himself past the 16th grid spot when it was over.
Still, the team will take the result. Now the question is: Will the drivers who held back in Q3 (Vettel, Button & Hulkenberg) have an advantage in the race when it comes to tire strategy?
Here are the team's post-qualifying comments:
Daniel Riccardo (7th):
"It's nice to be in Q3. It's the first time since Bahrain last year that I've made it to the top ten, so that's nearly a whole year. I am definitely looking forward to having a strong race tomorrow and will give it all I've got to make the most of this seventh place on the grid. I think it will be an exciting race and today, you could see that most of us waited until the last moments in Q3 to go out, with everyone thinking about saving tyres for tomorrow, as the Options were having a hard time on a long run on Friday. This result will boost everyone's spirits, and mine as well and I really can't wait for the lights to go out tomorrow! The guys have been working so hard back at the factory and they've made the car quicker, so well done to everyone."
Jean-Eric Vergne (16th):
"That was disappointing, because I've been on the pace since Friday, something didn't feel quite right on the car this afternoon. However, I am sure we can sort things out for tomorrow and when you see where my team-mate qualified then that has to be a positive sign for tomorrow, because the car is clearly working well. There will be plenty of opportunities to do something from here in the race. The tyre situation is quite complicated and we will have to see how to make the most of them, because the right strategy will be the biggest factor tomorrow afternoon. What we can say is that the car has definitely improved compared to the first two races."
James Key, Technical Director:
"We brought some relatively subtle changes here that improved on the hardware we had for the first two races which we hoped would allow us to make a good step forward and overall, they have. We didn't expect to be significantly better here, as this track has traditionally been difficult for us. However, all weekend our performance has been reasonable and we had a smoother time from Friday to Saturday than at the previous races and the car is responding well to changes. Daniel put in a fantastic effort, doing everything right and finding a huge amount of time with each new tyre set. It was a well controlled drive and he thoroughly deserves to have got to Q3 and a seventh place on the grid. It's also great news for the team, as we have all been working very hard at the track and the factory, because we knew we could do better than in the first two races. It was really unfortunate for Jev, who up until this afternoon was on the same pace as his team-mate. However, we've come from sixteenth on the grid to score points on Sunday, so we can remain optimistic. Inevitably with the spread between our cars on the grid, we will be looking at two different strategies for tomorrow. The Option tyre is something of an unknown, while Friday showed that the Prime is lasting quite well."
View a Printer Friendly version of this Story.
Q3 For Riccardo: More To Come?
Discussion started by strracing , 13/04/2013 15:51
strracing
13/04/2013 15:51
What do you think? You can have your say by posting below.
If you do not already have an account
Click here to Register
.
Hopefully Dan gets a good start,if his first stop isn't to early he could do well
Sorry, only registered users may post in this forum.
More Scuderia Toro Rosso headlines