Williams F1 Bahrain Test 22:02:2014 Day Four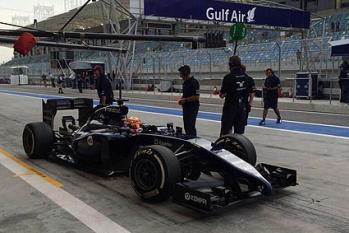 By Andrew Hooper - Williams F1
February 22 2014
The final day of the Williams F1 teams Bahrain test would see the team run newly signed test driver Felipe Nasr on the day. the Brazilian would complete an impressive 87 laps on a day that saw him get his first taste of Formula One.
Bahrain Test 22:02:2014 Day Four
Driver: Felipe Nasr
Chassis / Engine: FW36-02 / PU106A Hybrid
Location: Bahrain International Circuit 5.412km
Objectives: Reliability, aero evaluations and mileage for Nasr
Weather: Hot and Sunny Maximum air & track temps: 26ºC / 37ºC
The final day of the Williams F1 teams Bahrain test would see new signing Felipe Nasr have the opportunity of running in the FW36. One the side pod of the car was the logo of new sponsor Banco do Brasil. Felipe would head out onto the track and his first effort would see a 1m:42.194. He would improve with a 1m:40.026 seeing him second followed by further improvement 1m:39.760 but this was three seconds slower than the current quickest time of Rosberg with a 1m:36.237. With an hour of the session completed Nasr's first run for Williams was really about allow the new test and reserve driver some F1 track time. The team said that they were carrying out aero work this morning.

Watching over proceedings was Felipe Massa who despite having completed his driving duties was still in attendance. Felipe Nasr had completed eleven laps in the first hour and a half. Felipe would continue to circulate the track finding some improvement in his times almost in the 1m:38s. After over three hours he had completed forty laps with his best time a 1m:39.036.
Team drivers Felipe Massa and Valtteri Bottas looked on from the pit wall. Nasr was running on the hard tyre after an initial run on the medium tyre, most likely used the previous day. After a stoppage Nasr would return to the track with it been confirmed that he would be doing the whole days testing. As the day approached the period of the lunch break Nasr would pit having completed forty seven laps.

With two and a half hours remaining Nasr had completed fifty six laps with the team running their afternoon programme. Felipe would return to the track and he would continue to improve moving into the 1m:37s with a 1m:37.569 to be fourth but some four seconds off the quickest time of Rosberg with a 1m:33.283, but it was the Brazilians first run in a F1 car. As the afternoon drew to a close Felipe continued to circulate around the track, completing seventy four laps. Felipe would changed to the medium tyre for his final runs but would be hampered by several red flags. With the end of the day Felipe would complete an impressive eighty seven laps..

Rod Nelson, Chief Test & Support Engineer: We had Felipe Nasr in the car today. He did a very good job for us. We were keen for him to get some experience of the FW36 under his belt as it's important that he gets up to speed quickly so he can help us with the development of the car. He had a very sensible measured approach so we are happy with what we have seen so far. He gives good feedback, works well with his engineers and is also quick, and so we couldn't ask for more and are also looking forward to running him at some races this season. Once again, were it not for the red flags we would have clocked up over 100 laps for the third day running, so that is a further positive. Overall, it has been a successful test covering most of our reliability work. We can now start to push on performance all the way up to Melbourne.

Felipe Nasr: I am very happy to have driven a Formula 1 car for the first time, and reaching 87 laps made it also a very productive day. There were so many things going through my head before sitting in the car. It was what I was expecting though: very different to any other car I have ever driven with the amount of downforce, brake efficiency and the power. It was a learning process for me, but I was giving feedback to the engineers all day and I think we found some good things. I'm so pleased to have had this opportunity and I am now looking forward to the next time.
Driver 		Team 			Best Time Best / 
						  Total Laps
1  N Rosberg	Mercedes AMG Petronas	1:33.282  21 / 89
2  J Button	McLaren Mercedes	1:34.957  31 / 66
3  K Raikkonen	Scuderia Ferrari	1:36.718  39 / 82
4  F Nasr	Williams		1:37.569  68 / 87
5  P Maldonado	Lotus			1:38.707  47 / 59
6  S Perez	Sahara Force India	1:39.258  14 / 19
7  D Ricciardo	Infiniti Red Bull	1:39.837  7 / 15
8  J E Vergne	Toro Rosso		1:40.472  10 / 19
9  K Kobayashi	Caterham F1 Team	1:43.027  12 / 17
10 M Ericsson	Caterham F1 Team	1:45.094  3 / 4
11 A Sutil	Sauber F1 Team		No Time	  0 / 7
12 J Bianchi	Marussia		No Time	  0 / 5
View a Printer Friendly version of this Story.
Williams F1 Bahrain Test 22:02:2014 Day Four
Williams F1 (IP Logged)
22/02/2014 16:00
What do you think? You can have your say by posting below.
If you do not already have an account
Click here to Register
.
Sorry, only registered users may post in this forum.