Williams F1 Bahrain Test 1:03:2014 Day Three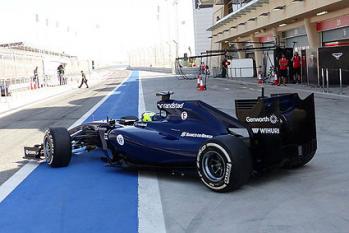 By Andrew Hooper - Williams F1
March 1 2014
The third day of the Williams F1 teams second Bahrain test would see Felipe Massa again driving and it would see a positive result. Felipe would set the fastest time of the day and also would complete 99 laps showing continued reliability with the 2014 FW36.
Bahrain Test 01:03:2014 Day Three
Driver: Felipe Massa
Chassis / Engine: FW36-03 / PU106A Hybrid
Location: Bahrain International Circuit 5.412km
Objectives: Aero evaluations, set-up work and qualifying simulation
Weather: Hot and Sunny Maximum air & track temps: 29ēC / 37ēC

After having spent the first two days of their final Bahrain test assessing race performance through several race simulations it was now reported that the final two days would see the Williams F1 team push to assess their pace. How quick will the Williams Mercedes be? Felipe would complete his installation lap as the team confirmed that performance w3ould be there focus for the day. Felipe would return to the track and set a 1m:39.494 and would continue to set laps in the 1m:39s. After a short run Felipe would pit but he would return shortly after and after an hour and a half of the morning session Felipe had completed fourteen laps.

Felipe would return to the track for his next run and would get straight down to quicker times setting a 1m:37.224 followed by another lap in the 1m:37s. This would see Felipe quickest with Hulkenberg second. Wit nearly three hours of the day complete Felipe was back at work completing forty eight laps up until the lunch break. Felipe would complain about the wind and how it was impacting on his lap times. With the afternoon session getting underway Magnussen would move ahead of Felipe with a 1m:36.172, 1.052 seconds faster than the Williams but running on the super softs. Another driver would also improve to go second,
Raikkonen, with a 1m:36.993.

Felipe was back out but running in a race mode as his lap times were in the 1m:41s. Felipe would pit having now completed sixty two laps. He would be delayed by a further red flag. With a green flag Felipe would return and was straight into the 1m:38s. More drivers would start to show some pace with Rosberg going second only to be passed by Hulkenberg. This would see Felipe now fifth having completed seventy eight laps. Felipe would again pit allow the team to try further changes to the FW36. It would be on his next run that Felipe would set the quickest time recorded at the current Bahrain test. Felipe had set a 1m:34.450 to be ahead of Rosberg and Kvyat, who had been quickest running on the super soft tyre. Felipe would set a 1m:34.892 again faster than anyone today. After this run Felipe would pit taking the time to talk to his race engineer prior to his next run. Felipe had completed eighty three laps while for his last run he was on the super soft Pirelli tyre.

But Rosberg would take to the track on the super soft tyre setting a 1m:33.484 to go fastest by 0.966 over Felipe. Felipe would respond by setting a 1m:33.258 to be 0.226 ahead of the Mercedes. Felipe's time was the fastest so far across both Bahrain test sessions. As the day drew to a close the Raikkonen would move into third followed by Magnussen with ten minutes remaining. With the end of the day Felipe would complete ninety nine laps in what was another very positive day for the Williams F1 team.

Rod Nelson, Chief Test & Support Engineer: Having covered most of the bases in terms of reliability, we concentrated more on performance today as we had planned to do. As we don't get the opportunity to test very much on a race weekend, we really look to do some significant tests when we have the tyres available to do so and we did some pretty positive tests today to continue learning about the car. This afternoon we did a full qualifying simulation with Felipe and we are pleased with how that turned out, so it's been a good day for us.

Felipe Massa: We had a very good day today doing almost 100 laps. We did a lot more performance work in the car which is something that we haven't done so much of so far. I'm really happy with the car and feel we found a good balance. We did so much work on the set-up but it is very important that we go to Australia prepared. Of course you are always happy when you see your name at the top in first place, but as well as performance, today was good for the mileage and reliability of the car which we know is needed for Australia. You can never be sure that you are 100% ready for the first race, but I feel that what we have done in these days testing has been important for making sure that we have a car that can not only get to the end of the race, but that will have good performance as well.

Williams will be back on track tomorrow, Sunday 2 March, with Valtteri Bottas in the Williams Mercedes FW36 for the fourth and final day of the test.
Driver 		Team 			Best Time Best / 
						  Total Laps
1  F Massa   	Williams		1:33.258  97 / 99
2  N Rosberg	Mercedes AMG Petronas	1:33.484  100 / 103
3  K Raikkonen	Scuderia Ferrari	1:35.426  86 / 87
4  K Magnussen	McLaren Mercedes	1:35.894  82 / 88
5  D Kvyat	Toro Rosso		1:36.113  52 / 81
6  N Hulkenberg	Sahara Force India	1:36.205  98 / 115
7  J Bianchi	Marussia		1:37.087  74 / 78
8  M Ericsson	Caterham F1 Team	1:38.083  112 / 117
9  R Grosjean	Lotus			1:42.166  16 / 33
10 A Sutil	Sauber F1 Team		No time	  0 / 1
11 S Vettel	Infiniti Red Bull	No time	  0 / 1
View a Printer Friendly version of this Story.
Williams F1 Bahrain Test 29:02:2014 Day Three
Williams F1 (IP Logged)
01/03/2014 15:55
What do you think? You can have your say by posting below.
If you do not already have an account
Click here to Register
.
Sorry, only registered users may post in this forum.