Brazilian GP: Frustrating qualifying for Williams Martini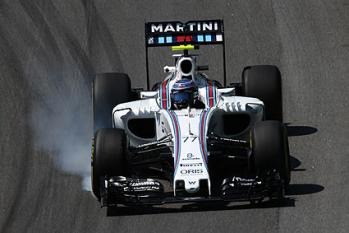 By Andrew Hooper
November 12 2016
It was a frustrating qualifying for the 2016 Brazilian GP for the Williams Martini team. Both drivers would fail to make it into the final period with Valtteri Bottas and Felipe Massa finishing 11th and 13th. The result was somewhat of a surprise for the Williams team as they had consistently been near the front of the field. To drop outside the top ten was unexpected but it will give them the choice of tyres for the start of Sunday's race.
Williams Martini Brazilian GP Qualifying
Team Summary:
Q1: After an encouraging practice leading up to qualifying the Williams Martini team would get ready for what would be a good result. There were concerns that rain would fall during the session. With the start of the eighteen minute period there would be a rush of drivers coming out all on the soft tyre. Vettel would have work done on his car as the rest of the field was out on the track. A 1m:11.511 from Hamilton with Rosberg second with a 1m:11.815. Verstappen was now third from Raikkonen and Ricciardo. After their first runs the Williams pair were sixth and seventh. Alonso was eighth followed by Grosjean and Hulkenberg. Vettel was out and would set a 1m:12.159 to be fifth.

With nine minutes remaining the track was now quite empty with the Williams drivers now seventh and eighth. The only cars on the track were now the Manor's but both would pit. Gutierrez would come out for a second run with five minutes remaining. Grosjean and Button would join them. Others would come out but the top nine were still in their pits. Hulkenberg would move up to seventh seeing the Williams drivers drop to eighth and ninth. Perez would move up to tenth seeing Alonso eleventh. The top ten would be Hamilton, Rosberg, Verstappen, Raikkonen, Vettel, Ricciardo, Hulkenberg, Felipe, Valtteri, and Perez.

Q2: It was still dry for the second fifteen minute period. Both Mercedes cars were out very early running on the soft tyre. Both Williams cars were also out early along with both Red Bull's. A 1m:11.238 from Hamilton followed by a 1m:11.373 from Rosberg. After their runs Verstappen was third followed by Vettel, Ricciardo, Valtteri, Alonso, and Felipe eighth. Raikkonen was up to sixth seeing the Williams drivers seventh and ninth. Perez was able to move up to ninth but Hulkenberg would move ahead of him seeing the Force India cars ninth and tenth. Palmer was back out for a second run currently fourteenth but a big lock up would see him lose time. He would set a 1m:13.258 to be twelfth. A group of drivers would come back out including both Williams drivers. After their runs the Williams drivers would finish eleventh and thirteenth. Alonso was now seventh followed by Perez, Grosjean and Hulkenberg tenth.

Q3: Both Mercedes cars were out early and would start their flying laps. A 1m:10.860 from Hamilton to go quickest from Rosberg. Rosberg's time was a 1m:11.022. Raikkonen was now third only to see Verstappen move ahead. Vettel was fourth followed by Ricciardo and Raikkonen. Alonso was seventh as both Mercedes cars pitted. Hulkenberg was eighth and Perez ninth. On his only run Grosjean would go seventh as the rest of the top ten all came back out. Hamilton would set a 1m:10.736 to remain quickest while Rosberg would set a 1m:10.838 to be second. Raikkonen was now third followed by Verstappen, Vettel, Ricciardo, Grosjean, Hulkenberg, Perez and Alonso. The gap between the Mercedes pair was just 0.102.
Valtteri Bottas:
Q1: Valtteri would be first out for Williams running on the soft tyre. Valtteri would set a 1m:12.680 to go third only to see Felipe go ahead. Valtteri would drop to seventh but would fail to improve on his next lap despite setting a personal best in the first sector. Valtteri would also pit and would remain there for the rest of the period. He would finish in ninth.

Q2: Valtteri would come out on new soft tyres and would set a 1m:12.420 to be third but he would drop to fifth. This would become sixth behind Ricciardo. After a single run Valtteri would pit seeing himself drop to seventh. Valtteri would also come back out for second run but would see himself drop to eleventh with a 1m:12.420 to be out of qualifying.
Felipe Massa:
Q1: Felipe would follow his team-mate out also on the soft tyre. Felipe would set a 1m:12.432 to be third but he would drop to sixth. Felipe was not able to improve and would pit after four laps. Like Valtteri Felipe would remain in his pit not completing a second run and would finish the period in eighth.

Q2: Felipe was out first for Williams in the second period, running on new soft tyres. Felipe would set a 1m:16.386 to be tenth. His next run would see him set a 1m:12.764 to be ninth after his first run and he would pit. He would drop to eleventh as the final five minutes commenced. Two minutes remaining and Felipe was back out for a second run. He would finish the period down in thirteenth with a 1m:12.521to also be out of qualifying. Felipe would say that his car felt totally different compared to his previous run and he could not explain his lack of pace.
View a Printer Friendly version of this Story.
Brazilian GP: Frustrating qualifying for Williams Martini
Williams F1 (IP Logged)
12/11/2016 17:27
What do you think? You can have your say by posting below.
If you do not already have an account
Click here to Register
.
Sorry, only registered users may post in this forum.