Abu Dhabi GP: Williams Martini Grand Prix Preview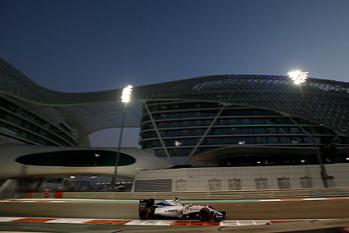 By Williams Martini Racing
November 22 2016
In what is the final race of the 2016 Formula One season the Williams Martini team moves to the Yas Marina circuit for the 2016 Abu Dhabi GP. For the Williams team it is their final opportunity to move ahead of their rivals in the Constructors Championship, even if this is going to be a very difficult task. The team is hoping to see a repeat of their 2014 race that saw a double podium finish. The other significant moment in this race will be the fact that it will mark the end of Felipe Massa's Formula one career.
Itís just seven years since Abu Dhabi arrived on the calendar with Formula Oneís first ever twilight race, yet the Yas Marina circuit has already established itself as a staple of the season. The ultra-modern design stands apart thanks to its unique features, including the LED-lit hotel sprawling over the circuit and tunnelled pit lane exit, as well as joining the likes of Monaco and Singapore in boasting a trackside yacht-filled marina. The long straights and open nature of the circuit promote entertaining racing, and the venue was the scene of celebrations for Williams in 2014 as a double podium for Felipe Massa and Valtteri Bottas secured the team 66 points in the double points system, the most points scored by a team at a single grand prix.

PAT SYMONDS:
After two high altitude races we now head right down to sea level in Abu Dhabi. Although a modern circuit, it is quite challenging with the high-speed areas of turns two and three, and turns 15 and 16, really testing the cars. However, the set-up also needs to allow good low-speed change of direction. The two long straights have independent DRS zones giving drivers two bites at overtaking, or conversely, if they accomplish the overtake on the first straight, they must defend on the second. Pirelli are bringing the ultrasoft tyre to this race for the first time, which could prove a difficult tyre to use as the numerous corners that make up sector three may well push this tyre above its ideal operating temperature, particularly as the prescribed pressure is significantly higher than we have used with this tyre before. Unlike Brazil, we can be pretty sure of a dry race here in the desert and, in spite of the introduction of the softer tyre, we would still expect a two-stop to be the favoured strategy.
FELIPE MASSA:
Itís going to be another emotional one! You try not think about it too much when youíre in the car, you just try to do as good a job as you can. Itís a really nice track to drive, there are lots of fans who really enjoy themselves at the track and outside of the track and it is, of course, a twilight race which is interesting for us and everyone watching. I really hope the final, and 250th race of my Formula One career, can be a fantastic one. We will of course have a big party! Hopefully we can celebrate with a great result.

VALTTERI BOTTAS:
Abu Dhabi is a nice place to finish the Formula One season. The facilities are great there and it seems like more and more people come to this race every year. Itís the place where I had my first ever Formula One test in 2011. Itís a good track for racing and it looks very cool with the sunset. We ended the 2014 season there with a double podium so it would be nice to finish this season with another strong result. Normally itís a good track for our car because of the long straights and short corners and chicanes, so I look forward to it.

Race Data
Friday:
Practice 1: 13:00 - 14:30
Practice 2: 17:00 - 18:30
Saturday:
Practice 3: 14:00 - 15:00
Qualifying: 17:00 - 18:00
Sunday: Race: 17:00