Williams Barcelona Test 28:02:2017 Day Two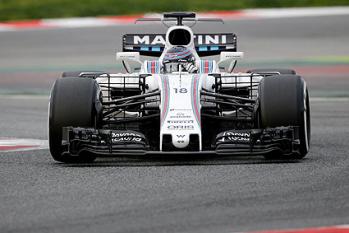 By Andrew Hooper
March 1 2017
The second day of the Williams Martini teams Barcelona test would be cut short after the FW40, driven by Lance Stroll, was damaged in a spin early in the day. Even though the spin was quite slow and did not appear to do any damage upon subsequent inspection the Williams team found that there was a lot of damage to the car. This would see the team end the days test after Stroll had only complete twelve laps.
Barcelona Test 28:02:2017 Day Two
Driver: Lance Stroll
Chassis / Engine: FW40-01 / Mercedes-AMG F1 M08 EQ Power+
Location: Circuit de Barcelona-Catalunya, 4.655km
Weather: Cool and Dry
Maximum air & track temps: 16ºC / 24ºC

After a successful first day of pre-season testing the Williams Martini team would replace Felipe Massa with rookie Lance Stroll for the second day. Lance would be amongst the first group of drivers to take to the track on his first official test for the Williams team. Lance was on the medium tyre for this first run. After a series of laps the quickest time was a 1m:26.834 from Hamilton. Lance would pit after five laps without setting a time. He had aero measuring devices behind each of the front wheels so it was not surprising that he did not set a time. With thirty minutes of the morning session complete Lance would return to the track still on the medium tyre.

Lance would set a time of 1m:28.946 but would improve with a 1m:26.450. His next lap would see a 1m:26.089 followed by a 1m:26.040. But unfortunately Lance would stop out on the track having spun his car at Turn nine. But he was able to continue after doing a slow three point turn and would return to the pits having now completed twelve laps. The quickest time was now a 1m:24.794 from Verstappen on the soft tyre. But Hamilton would return to the top of the times with a 1m:24.026 followed by Raikkonen and Verstappen. Lance was now fourth and still in his pit with just over an hour completed.

On a further run Hamilton would set a 1m:21.766 to be quickest by 1.5s. After his off-track moment Lance was still in his pit with two hours of the morning session completed. The session would continue but Lance would remain in his pit. He had drop to sixth to be behind the Hass of Magnussen. This would become seventh as Kvyat went into sixth. Hamilton would be the first driver to use the super-soft tyre and would set a 1m:20.983 to be 1.8 seconds faster than Raikkonen who was using the medium tyre. With just over an hour remaining in the morning session Lance has still only completed twelve laps. This is where he would remain as the lunch break commenced. The team would later announce that there would be no further running by Lance.

Rob Smedley, Head of Performance Engineering:
Lance was on lap six of his second run when he had a spin. The grip was particularly low and so he spun and went through the gravel backwards. Even though the accident was entirely innocuous we've unfortunately had quite a bit of accident damage, which we're now in the process of repairing. We're having to send some composite parts back to the factory, which will be back with us at some point tomorrow. We're doing the upmost we can now to get back out on track at the earliest opportunity tomorrow. We will be able to recover the programme in the coming days.

Lance Stroll:
It is still early days and I have only done a handful of laps. I am just getting to grips with the FW40, and there is still a lot of time ahead of us. It was good to finally get behind the wheel to just get a feel for it. Like I said, it is still early days, so I need to do a lot more running before I know exactly where I am and where the car is at. I will have a much better picture once we have more laps under our belts, but it was good to break the ice and I am looking forward to some more running..
Driver 		Team 	    	   	Time	  Laps
1 K. Raikkonen 	Ferrari 		1m20.960s 108 
2 L. Hamilton 	Mercedes 		1m20.983s 66 
3 M. Verstappen Red Bull Racing 	1m22.200s 89 
4 K. Magnussen 	Haas F1 Team 		1m22.204s 118 
5 E. Ocon 	Force India F1 Team	1m22.509s 86 
6 D. Kvyat 	Toro Rosso	 	1m22.956s 68 
7 V. Bottas 	Mercedes 		1m22.986s 102 
8 J. Palmer 	Renault 		1m24.139s 53 
9 A. Giovinazzi Sauber F1 Team 		1m24.617s 67 
10 S. Vandoorne McLaren 		1m25.600s 40 
11 L. Stroll 	Williams Martini 	1m26.040s 12
View a Printer Friendly version of this Story.
Williams Barcelona Test 28:02:2017 Day Two
Williams F1 (IP Logged)
01/03/2017 06:13
What do you think? You can have your say by posting below.
If you do not already have an account
Click here to Register
.
Sorry, only registered users may post in this forum.