Williams Barcelona Test 08:03:2017 Day Two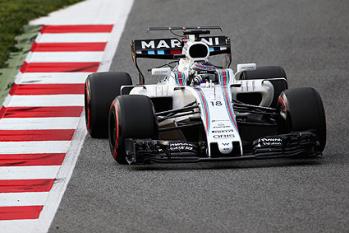 By Andrew Hooper
March 9 2017
On a day that saw both Williams drivers run the Williams Martini team would complete another productive day of testing. Both drivers would complete 122 laps in total with Felipe Massa finishing 2nd and Lance Stroll 5th. For Felipe it was another productive day as the team worked through their test programme. For Lance his day was not marred by any incidents and he was able to experience the softer compunds tyres. Both drivers will run in the third day of testing.
Barcelona Test 08:03:2017 Day Two
Driver: Felipe Massa / Lance Stroll
Chassis / Engine: FW40-02 / Mercedes-AMG F1 M08 EQ Power+
Location: Circuit de Barcelona-Catalunya, 4.655km
Weather: Warm and Dry
Maximum air & track temps: 27ºC / 22ºC

After a successful opening day of the second week of pre-season testing the Williams Martini team would return for their second day with both Felipe Massa, in the morning, and Lance Stroll, in the afternoon, getting time in the car. Felipe would complete two installation laps and would pit. The early quickest time would go to Bottas with a 1m:21.299 followed by Verstappen. Felipe would eventually take to the track running on the soft tyre and his early time was a 1m:22.816 to be third but he would improve with a 1m:22.455 as he continued to lap the circuit running in the 1m22.6s mark. Having completed sixteen laps Felipe would pit.

Felipe would return for another stint still on the soft tyre and would complete twenty eight laps prior to pitting again. Quickest at this stage was now Verstappen with a 1m:20.516 with two hours completed in the morning. After a brief stop Felipe would return still on the soft tyres. He would continue to put in further laps but would have a moment at Turn 13 running wide off the track but was able to continue. Felipe had been able to improve his lap time with a 1m:21.618 remaining third. Forty laps completed and Felipe would pit again. On his next run Felipe would move ahead of Verstappen with a 1m:20.244 running still on the soft tyre but his time was quickly passed by Bottas with a 1m:19.310 running on the supers soft tyre. His next lap was a 1m:19.777 even though he was quicker in the first sector.

Felipe would pit after just a few laps now having completed forty three laps. The track was empty with an hour and a quarter remaining in the morning. Again Felipe would return and would continue to push setting a 1m:20.181 remaining second by 0.871s. He would continue to lower his times with a 1m:19.909 to be 0.599 behind Bottas. Having set this time he would pit again. His next run would see the ultra soft tyres fitted and he would immediately improve with a 1m:19.487, close to Bottas' time. He would continue to push setting a 1m:19.420 to be just 0.110 behind the Mercedes. He would pit after this run with sixty three laps now completed. Bottas had completed an ultra soft tyre run but failed to set a time quicker than he had using the super soft.

Raikkonen was now third followed by Verstappen and Hulkenberg as the teams stopped for the lunch break. For the Williams team their morning as again a successful one as the team worked through soft tyre runs ending with that single super soft run.

The afternoon session would see Lance Stroll return to the cockpit. His first run would see him out on the soft tyre and he would get into his run setting a best of 1m:22.814 completing seven laps prior to pitting. After a short stop he would return to the track looking to add to his laps in the FW40. He would improve with a 1m:22.510 as he continued his soft tyre run. Lance was currently tenth with an hour of the afternoon running completed. Lance would pit having completed twenty six laps in total. Lance would continue to put in further laps and with an hour remaining had completed forty two laps. He would set a 1m:21.927 and he would improve in this with a 1m:21.531. As the afternoon progressed Lance would continue to improve setting a 1m:20.579 to be fifth running on the supersoft tyre. He would complete fifty nine laps at the end of the day making Williams total for the day one hundred and twenty two. Another impressive day for the team and both drivers.

Rod Nelson, Chief Test & Support Engineer:
Today was a pretty busy day again, and also included a driver change at lunchtime. Felipe was driving this morning and we tried the ultrasoft tyres for the first time, so we've got some good data to look at. Lance was back in the car in the afternoon and he did a good job. He's never tried the supersoft tyres before but he acquitted himself really well considering the circuit conditions he had at the time. Overall we had a good clean day and completed 122 laps in total, which means we have a lot of useful data to look through tonight.

Felipe Massa:
It was a good morning. We completed all of our programmes and, like yesterday, I had a good feeling in the car. We're happy with everything we tried in terms of set-up and trying different tyres. I've had a very good day and a half, but hopefully this is just the beginning and we can finish testing well. I'm very happy with what I've seen and what I feel in the car. It's still difficult to know where we are compared to the others, but the car is definitely looking positive.

Lance Stroll:
I am quite happy with the afternoon and pleased with the morning watching Felipe do some solid running. I think it was a good day. As a team we got a lot of laps in, so we have a lot of positives to take out of today. I am not really focussed on lap times, as it is testing and we are exploring a lot of different things on the car and trying to move forward. I am just happy with getting some good running in, trying some stuff on the car and moving in the right direction. That is what we are focusing on over these few days, and so far so good. We did some short runs, and tried some different compounds. I went to the softer compounds today. I tried the supersofts but still have the ultrasoft remaining that I haven't tried. It was good to get a feel for them for the first time.

Williams Martini Racing returns to track tomorrow with Lance Stroll in the morning session and Felipe Massa in the afternoon session.
Driver     	  Team      	     	   Time      Laps
1. V. Bottas 	  Mercedes AMG Motorsport  1:19.310 43 / 70
2. F. Massa	  WILLIAMS MARTINI RACING  1:19.420 58 / 63
3. K. Raikkonen	  Scuderia Ferrari	   1:20.406 28 / 53
4. M. Verstappen  Red Bull Racing	   1:20.432 31 / 102
5. L. Stroll	  WILLIAMS MARTINI RACING  1:20.579 51 / 59
6. L. Hamilton	  Mercedes AMG Motorsport  1:20.702 9 / 79
7. N. Hulkenberg  Renault Sport F1 Team    1:21.213 25 / 61
8. S. Perez 	  Force India 		   1:21.297 48 / 100
9. C. Sainz 	  Scuderia Toro Rosso 	   1:21.872 38 / 92
10. R. Grosjean   Haas F1 Team 		   1:21.887 66 / 96
11. P. Wehrlein   Sauber F1 Team 	   1:23.000 38 / 59
12. F. Alonso     McLaren 		   1:23.041 22 / 46
13. M. Ericsson   Sauber F1 Team 	   1:23.384 22 / 47
14. J. Palmer     Renault Sport F1 Team    1:24.774 22 / 29
View a Printer Friendly version of this Story.
Williams Barcelona Test 08:03:2017 Day Two
Williams F1 (IP Logged)
09/03/2017 04:56
What do you think? You can have your say by posting below.
If you do not already have an account
Click here to Register
.
Sorry, only registered users may post in this forum.