Bahrain GP: Williams Martini Grand Prix Preview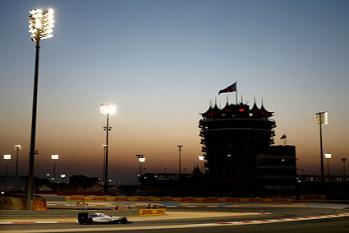 By Williams Martini Racing
April 12 2017
Just one week after the Chinese GP the Williams Martini team moves to the Middle East for the 2017 Bahrain GP. After the frustrations of the Chinese GP weekend which saw both Felipe Massa and Lance Stroll qualify well only to fail to produce a result in the race the team is hoping to turn things around. For Felipe it is a track that he enjoys going to and for Lance it will be a track that he has driven on before. The team is looking to get their season back on track.
Bahrain led Formula Oneís expansion into the Middle East in 2004 and will this year hold its 13th Grand Prix and its fourth as a night race. No longer one of the calendarís new additions, the Bahrain International Circuit has proved one of the more popular modern era races and hosts one of the most entertaining Grands Prix of the year. The temperatures, dust and sand around the 5.4km layout present teams with a unique mechanical challenge in which to operate Formula One cars at peak performance. For both China and Bahrain, Pirelli has made available the supersoft, soft and medium tyres.
PADDY LOWE:
Bahrain is a great track that has been transformed since becoming a twilight race in 2014, with a great atmosphere in the build up to lights-out, with a magical feel as it ends under the lights as darkness falls. We have seen some very exciting battles on track there between drivers over the years, and this year promises to be no different. It is very tough on brakes so it will be interesting to see how well the teams fare with this generation of faster cars. It can be hot, testing the cooling systems, and the wind and sand can also be a factor, especially during the early parts of the weekend, so it has the ability to be quite a tricky test for both the teams and drivers.
FELIPE MASSA:
As a track itís a little bit different to the others. You need to have a car that is strong under braking, which is especially important for this track. You also need a reliable car that has good speed and traction. I really like Bahrain, Iíve won there twice so itís definitely a place I enjoy going to. I really hope we can have a good race there this year.

LANCE STROLL:
It will be a pretty heavy schedule to have my first back-to-back races from China to Bahrain. However, Bahrain will be the first track this season that I have driven on before, so that will be a bit of a breather for me. It is a track that has a good flow to it. It can be quite slippery sometimes, as the wind blows the sand over it because it is in the desert. It is a very modern track, but quite bumpy in certain places and, just as with many other circuits, has its challenges. I really enjoyed myself the one time I have been there so I am looking forward to the race. It is definitely one of those desert tracks as there is not much grass, but it is still a cool place. I know there has been some good racing in Bahrain, which is always great.

Race Data
Friday:
Practice 1: 14:00 - 15:30
Practice 2: 18:00 - 19:30
Saturday:
Practice 3: 15:00 - 16:00
Qualifying: 18:00 Ė 19:00
Sunday: Race: 18:00