Bahrain GP: Positive start for Williams Martini in FP1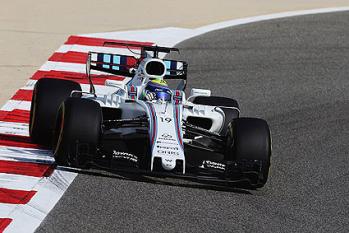 By Andrew Hooper
April 14 2017
The opening Friday practice session for the 2017 Bahrain GP was a positive one for the Williams Martini team. Felipe Massa and Lance Stroll would finish the session in 5th and 6th after their soft tyre runs. The early part of the session saw both drivers on the medium tyre. The only thing of concern was a brake failure that Felipe would suffer late in the session. This would see the team call Lance back into his pit to check his car.
Williams Martini Bahrain GP Friday 1st Practice
Team Summary:
Both Williams drivers would complete their installation laps while the first time was a 1m:38.985 from Ricciardo. He would improve and would get down to a 1m:38.843 prior to pitting. He was on the medium tyre. The last cars to come out would be the Mercedes and Bottas would set a 1m:39.757 to be second. Hamilton would go fastest with a 1m:38.112 with Bottas going second with a 1m:38.246. Bottas would set a 1m:37.473 but remained second. Hamilton would set a new quickest time with a 1m:37.355 as Bottas pitted. Hamilton would lower his quickest time with a 1m:36.708 with Vettel now second followed by Bottas and Felipe. After their first runs the Williams drivers were third and eighth but this would change as Sainz went fastest running on the soft tyre, 1m:36.079. Bottas was also out on the soft tyre.

Both Williams were quickest in the speed trap as Bottas went fastest with a 1m:35.002. Hamilton was out on the soft tyre going quickest with a 1m:34.636. Raikkonen would stop out on the track with an engine related issue. With fifty minutes remaining Felipe and Lance were sixth and ninth. Forty minutes remaining and only Hamilton was on the track. After their soft tyre runs the Williams pair were second and third. Perez was quickest with a 1m:34.095. Grosjean was now fourth also on the soft tyre. Vettel would go quickest with a 1m:32.697 to be 1.3 seconds ahead of Perez with thirty minutes remaining. Ocon was now sixth as Ricciardo went second with a 1m:33.097. Verstappen was now third with a 1m:33.625. Hamilton and Bottas were both back out with Hamilton ninth and Bottas twelfth. Both Mercedes cars would drop down one place as Alonso went eighth. With the end of the session Felipe and Lance would finish fifth and sixth. A very encouraging start to the weekend but Felipe's brake issue would be of concern.

Felipe Massa:
Felipe would follow his team-mate out for his installation lap but Felipe was on the medium tyre. He would also complete just a single lap. Felipe would join Lance out on the track also on the medium tyre. Felipe would complete his first timed lap setting a 1m:37.625 to be third. "It's really terrible, the grip level is just zero" said Massa. Felipe was now fifth with fifty seven minutes remaining. Felipe had improved with a 1m:37.164 as he pitted from sixth. Felipe had complete eleven laps. Felipe would follow Lance out also on the soft tyre. Felipe would go quickest with a 1m:34.246 with Lance second. Felipe would drop to third and had pitted. This would become fifth as Verstappen went quicker. Felipe would return running on used soft tyres. Felipe would spin at Turn thirteen but was able to continue but would return to his pit. He would confirm that he lost his brakes completely. His session would end in his garage.

Lance Stroll:
Lance would be first out for Williams on his installation lap running on the soft tyre. Lance would pit after a single lap. Lance would come out for his first run this time on the medium tyre with an hour thirteen remaining in the session. Lance would start his first timed lap and would finish with a 1m:38.553 to be fourth. Lance would drop to sixth then seventh. He would improve with a 1m:38.245 to again be sixth. He would again drop to seventh as he also complained about the lack of grip. lance would drop to eighth behind Ricciardo. Lance would complain that his dash was showing that the Safety Car was out. Lance would drop to twelfth. but again he was able to improve with a 1m:38.067 still on the medium tyre to be eleventh but Ricciardo would go ahead again seeing Lance twelfth.

Lance was able to improve again on what were well used medium tyres. He would set a 1m:37.782 to be ninth. Lance would also pit having complete twelve laps. Lance would come back out this time on the soft tyre. Lance would go quickest in the first sector and set a personal best in the second. He would finish with a 1m:34.322 to go quickest. He would drop to fourth and would continue his run on the soft tyre. Lance was still running but now sixth. He would pit with just over twenty minutes remaining. Ten minutes remaining and Lance would return on the used soft tyres. Lance was just 0.076 behind his team-mate. The team would tell Lance to abort his lap and return to his pit so that the team could check his car after Felipe's issue. Like Felipe his session would end in his garage.
Pos
Driver
Car
Time
Gap
Laps
1
Sebastian Vettel
Ferrari
1m32.697s
-
21
2
Daniel Ricciardo
Red Bull-Renault
1m33.097s
0.400s
22
3
Max Verstappen
Red Bull-Renault
1m33.566s
0.869s
23
4
Sergio Perez
Force India-Mercedes
1m34.095s
1.398s
22
5
Felipe Massa
Williams-Mercedes
1m34.246s
1.549s
24
6
Lance Stroll
Williams-Mercedes
1m34.322s
1.625s
25
7
Esteban Ocon
Force India-Mercedes
1m34.332s
1.635s
23
8
Fernando Alonso
McLaren-Honda
1m34.372s
1.675s
14
9
Romain Grosjean
Haas-Ferrari
1m34.564s
1.867s
21
10
Lewis Hamilton
Mercedes
1m34.636s
1.939s
28
11
Daniil Kvyat
Toro Rosso-Renault
1m34.838s
2.141s
13
12
Nico Hulkenberg
Renault
1m34.927s
2.230s
13
13
Stoffel Vandoorne
McLaren-Honda
1m34.997s
2.300s
10
14
Valtteri Bottas
Mercedes
1m35.002s
2.305s
27
15
Jolyon Palmer
Renault
1m35.068s
2.371s
19
16
Kevin Magnussen
Haas-Ferrari
1m35.579s
2.882s
21
17
Marcus Ericsson
Sauber-Ferrari
1m35.888s
3.191s
23
18
Pascal Wehrlein
Sauber-Ferrari
1m35.959s
3.262s
23
19
Carlos Sainz
Toro Rosso-Renault
1m36.079s
3.382s
16
20
Kimi Raikkonen
Ferrari
1m42.333s
9.636s
6
View a Printer Friendly version of this Story.
Bahrain GP: Positive start for Williams Martini in FP1
Williams F1 (IP Logged)
14/04/2017 13:55
What do you think? You can have your say by posting below.
If you do not already have an account
Click here to Register
.
Sorry, only registered users may post in this forum.