Russian GP: Encouraging FP3 for Williams Martini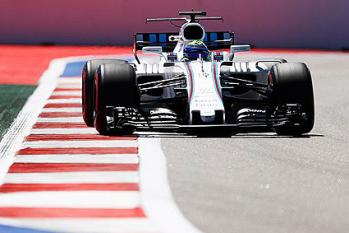 By Andrew Hooper
April 29 2017
The final practice session for the 2017 Russian GP would be an encouraging one for the Williams Martini team with Felipe Massa and Lance Stroll finishing in 6th and 11th. It was an uneventful session for the Williams team with Felipe completing a super soft tyre run prior to switching to the ultra soft. Lance would focus on the ultra soft tyre with this session been the first time he had the opportunity to run on this tyre.
Williams Martini Russian GP Saturday Practice
Team Summary:
Both Williams cars would complete their installation laps and would pit. Lap times would start to be set with Kvyat quickest with a 1m:38.207. There was a mix of tyre types been used as Ricciardo went quickest with a 1m:37.547 on the ultra soft tyre. Team-mate Verstappen would set a 1m:37.495 also on the ultra soft tyre. On the same tyre Raikkonen would go quickest with a 1m:35.610, with Vettel moving into second and Ricciardo now third. Bottas was now up to second but Raikkonen would move ahead. Vettel had been able to find time to go quickest with a 1m:34.933. Hamilton was now in fourth while the Williams drivers were eighth and eleventh but the pair had set their times on different tyre types.

With just under forty minutes remaining the order was Vettel from Raikkonen, Bottas, Hamilton, Ricciardo, Verstappen, Sainz, Lance, Ocon and Perez in tenth. Bottas would move back up to second with a 1m:35.353. After their next runs the Williams drivers were seventh and eighth. At the front Hamilton was now fastest with a 1m:34.828. Alonso was now in twelfth and Grosjean tenth. Both Mercedes cars had pitted and returned on new sets of the ultra soft tyre. Verstappen was now up to fourth. Bottas would go quickest with a 1m:34.681 with Hamilton second. Hamilton was now able to move ahead of his team-mate. But Raikkonen was also on a very good lap setting a 1m:34.338 to go quickest. But his team-mate Vettel would go quicker with a 1m:34.001 to be fastest. The Williams drivers would finish in sixth and eleventh in what was a very encouraging session for the Williams team.

Felipe Massa:
Felipe would be first out for Williams with the start of the final practice session. He was running on the soft tyre for his single installation lap. Felipe would return with just over forty five minutes remaining this time running on the super soft tyre. Felipe was on his flying lap and would set a 1m:37.980 to be eighth. The only drivers also on the super soft tyre ahead of him were Ocon and Perez. Felipe would drop to tenth. Felipe would find time moving up to seventh with a 1m:37.073, seeing him now the quickest on the super soft tyre. Felipe would pit after seven laps. With just over fifteen minutes remaining Felipe was back out on his ultra soft tyre run. He would set a 1m:35.471 to be sixth behind Verstappen and with the end of the session he would keep this position.

Lance Stroll:
Lance would follow his team-mate out also using the soft tyre. Lance would also complete a single installation lap. Lance would come out on the ultra soft tyre, his first run on this tyre. His first timed lap was a 1m:37.510 which would see him seventh. Lance would drop to ninth as he continued his ultra soft tyre run. Like his team-mate Lance would also find time setting a 1m:37.166 to now be eighth. He would continue to improve with a 1m:36.649 to now be sixth but he would drop behind Verstappen to be seventh. Lance would pit after a run of eleven laps. Lance would return on the ultra soft tyre currently tenth. He would drop to eleventh and would finish the session in this position.
| Pos | Driver | Car | Time | Gap | Laps |
| --- | --- | --- | --- | --- | --- |
| 1 | Sebastian Vettel | Ferrari | 1m34.001s | - | 17 |
| 2 | Kimi Raikkonen | Ferrari | 1m34.338s | 0.337s | 16 |
| 3 | Valtteri Bottas | Mercedes | 1m34.364s | 0.363s | 20 |
| 4 | Lewis Hamilton | Mercedes | 1m34.542s | 0.541s | 19 |
| 5 | Max Verstappen | Red Bull/Renault | 1m35.452s | 1.451s | 21 |
| 6 | Felipe Massa | Williams/Mercedes | 1m35.471s | 1.470s | 17 |
| 7 | Nico Hulkenberg | Renault | 1m35.662s | 1.661s | 15 |
| 8 | Daniel Ricciardo | Red Bull/Renault | 1m35.830s | 1.829s | 24 |
| 9 | Carlos Sainz | Toro Rosso/Renault | 1m36.164s | 2.163s | 20 |
| 10 | Kevin Magnussen | Haas/Ferrari | 1m36.556s | 2.555s | 19 |
| 11 | Lance Stroll | Williams/Mercedes | 1m36.649s | 2.648s | 19 |
| 12 | Esteban Ocon | Force India/Mercedes | 1m36.676s | 2.675s | 22 |
| 13 | Daniil Kvyat | Toro Rosso/Renault | 1m36.846s | 2.845s | 18 |
| 14 | Fernando Alonso | McLaren/Honda | 1m36.869s | 2.868s | 12 |
| 15 | Sergio Perez | Force India/Mercedes | 1m36.962s | 2.961s | 21 |
| 16 | Romain Grosjean | Haas/Ferrari | 1m37.164s | 3.163s | 20 |
| 17 | Stoffel Vandoorne | McLaren/Honda | 1m37.182s | 3.181s | 15 |
| 18 | Marcus Ericsson | Sauber/Ferrari | 1m37.503s | 3.502s | 21 |
| 19 | Pascal Wehrlein | Sauber/Ferrari | 1m37.657s | 3.656s | 17 |
| 20 | Jolyon Palmer | Renault | - | - | 4 |