Russian GP: Difficult race for Williams Martini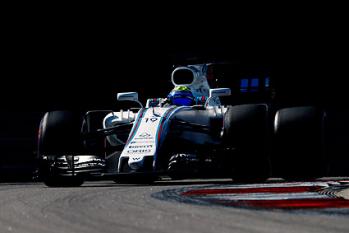 By Andrew Hooper
April 30 2017
The results of the 2017 Russian GP would see the Williams Martini team see their drivers finish in 9th and 11th. Felipe Massa would start from sixth and would run in this position for most of the race but a late puncture and pit stop would see him drop to ninth. For Lance Stroll he was just outside the points but at least he finished the race. But his race was spoilt by a spin on the first lap of the race that saw him drop down the order. It was a race of what might have been for the Williams team had their drivers not suffered their frustrations in the race.
Russian Grand Prix Race Review
The starting grid for the fifty three lap 2017 Russian GP would see Felipe Massa and Lance Stroll start from sixth and eleventh positions for the Williams Martini team. The top ten drivers would all start on the ultra soft tyre but Lance would have the option of tyres and would select the tyre. On pole was Vettel followed by Raikkonen, Bottas, Hamilton, Ricciardo, Felipe, Verstappen, Hulkenberg, Perez and Ocon in tenth. But for Verstappen his race would hit problems prior to going to the grid with his car suffering a water leak. But his team would fix it and he would make his way to the grid. Lance would start the race on new ultra soft tyre with the only drivers on the super soft tyre been the Sauber's and Vandoorne.

The grid would move off and complete their formation lap with Vettel taking up his pole position. Alonso would retire his car at the pit entry. His car would be cleared but it would require another formation lap. The start would see Bottas get past both Ferrari's to take the lead as they went into Turn two. At the rear both Grosjean and Palmer would crash ending both their races. For Williams Lance would spin and would be fourteenth. Felipe was running in sixth with the cars behind the Safety Car as they cleared the damaged Hass and Renault. lap four and the race would restart with Bottas leading Vettel and Raikkonen. Felipe was 4.5 seconds behind the leader running behind Verstappen. Ricciardo was in seventh and would report that his breaks were on fire with smoke coming out and slowing his car dropping down the order.
It was reported that an incident between Lance and Hulkenberg was under investigation so Lance may not have spun alone. Ricciardo would pit and retire in his garage. Lap ten and Bottas was leading by 3.1 seconds while for Felipe he was 18.1 seconds behind Bottas and 3.1 seconds behind Verstappen. Lance was now thirteenth running behind Kvyat. Lap fourteen of the now fifty two lap race and Bottas was extending his lead with a gap to Vettel of 4.05s. Hamilton was in a distant fourth with a large gap back to Verstappen. Hamilton was told by his team that his car was high on temperatures. Bottas continued to set quickest laps as his lead grew to 4.6 seconds. Drivers would start to pit and on lap twenty three Felipe would pit changing to the super soft tyre. Felipe would return in tenth while Lance was now eleventh as other drivers pitted including Magnussen and both Sauber's.

Felipe was running in ninth with Lance in tenth but yet to pit having completed twenty five laps on the ultra soft tyre. Bottas would pit on lap twenty nine taking on the super soft tyres. Vettel was now leading with Raikkonen second and Hamilton third. Bottas was now in fourth as Perez pitted. Lance would now pit on lap thirty taking on the super soft tyre running in eleventh. With others stopping Felipe would move up to seventh ten seconds behind Hulkenberg. Raikkonen would pit on lap thirty one also taking the super soft tyre. The next lap and Hamilton would pit coming back out in fourth. Bottas was now second behind Vettel but the Ferrari had yet to pit.
Twenty laps to the end of the race and Vettel was told that he would stay out even though he was on very well used ultra soft tyres. Felipe continued to run in seventh behind Hulkenberg but the Renault had yet to pit. Vettel was finally told to pit and would come in on lap thirty six. Vettel would have a slightly slow pit stop and would come out again in second 4.7 seconds behind the now leading Bottas. The gap between Bottas and Vettel was fluctuating as both drivers tried to set their quickest times. Lap forty and the gap was now down to 2.4 seconds with Bottas having made a small mistake running wide at Turn thirteen. It was a real game between Bottas and Vettel.
Hulkenberg would finally pit on lap forty two coming back out in ninth followed by Sainz and Lance. Felipe was now running in sixth with Perez and Ocon behind him. But Felipe would pit again on lap forty three and would come back out in ninth. Felipe would take on a set of ultra soft tyres for the run to the flag. Felipe had been forced to pit due to slow puncture. Lap forty five and Bottas had been able to open the gap to 2.0 seconds. But Vettel was still pushing as for Williams Felipe was ninth and Lance in eleventh. Lap forty seven and the gap was now 1.3 seconds between Bottas and Vettel. Raikkonen was running third and Hamilton fourth. Vettel would set a new fastest lap of the race and was 1.2 seconds behind Bottas. Bottas was closing in onto Felipe to lap him. Vettel was now under a second and able to use his DRS as the pair started their penultimate lap.
Bottas would get past Felipe but Vettel was slightly delayed by the Williams on the last lap of the race. Vettel would close up but Bottas was able to keep the Ferrari behind and take victory in the 2017 Russian Grand Prix. Vettel was second followed by Raikkonen, Hamilton, Verstappen, Perez, Ocon, Hulkenberg, Felipe, and Sainz in tenth. Lance would finish in eleventh just outside of the points. This was his first finish of the year. For the Williams team the race was one that was one of what could have been with Felipe losing sixth due to a puncture and Lance could have finished in the points had it now been for his spin on the opening lap. The Williams team would drop further behind the Force India team it what was turning out to be a season where only one driver has a realistic chance of scoring points for the team.
View a Printer Friendly version of this Story.
Russian GP: Difficult race for Williams Martini
Williams F1 (IP Logged)
30/04/2017 15:08
What do you think? You can have your say by posting below.
If you do not already have an account
Click here to Register
.
Re: Russian GP: Difficult race for Williams Martini
30/04/2017 15:38
Men, Massa did a good job. Though now we see Massa's reborn. Sochi was very good race but that slow puncture. Phelipe c'mon! You're good old pepper!



Edited 1 time(s). Last edit at 2017:04:30:15:39:08 by LiXiQing.
Sorry, only registered users may post in this forum.