Spanish GP: Little change for Williams Martini in FP3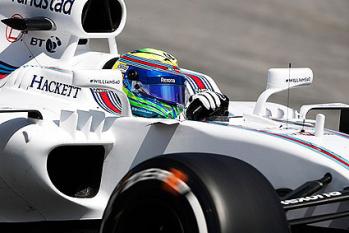 By Andrew Hooper
May 13 2017
The final practice session for the 2017 Spanish GP would see little in the way of any change for the Williams Martini team. Felipe Massa would finish in the top ten in 8th while team-mate Lance Strool continued to struggle finishing in 17th. After their soft tyre runs the pair wer 5th and 6th but such as the gap to the quickest time for Lance he would quickly drop down the order. Once again qualifying is going to be difficult for the young Canadian.
Williams Martini Spanish GP Saturday Practice
Team Summary:
Both Williams drivers would complete their installation lap on the hard tyre. The first time running on the medium tyre was from Ocon with a 1m:24.944. He would be followed by Vandoorne and Perez also on the medium tyre. Bottas was stuck in his pit having had an issue with the electrics on his car followed by a water leak. Both Ferrari's were out on the medium tyre as Raikkonen went quickest with a 1m:22.494 while Ocon had improved with a 1m:24.784. Vettel was now second with a 1m:23.406. Raikkonen would lower his quickest time with a 1m:22.409 with Kvyat was now third. Sainz was now third followed by Kvyat and Felipe. After their first runs Felipe and Lance were fifth and ninth.

Hamilton had gone second after having gone quickest in the middle sector running on the medium tyre. Verstappen would move up to third ahead of Vettel, Sainz, Ricciardo, Lance, Grosjean, Kvyat, and Magnussen in tenth. Raikkonen would be the first of the front runners to take to the track on new soft tyres. Vettel would join him as Raikkonen started his flying lap. He would finish with a 1m:20.214 to be 2.5 seconds ahead of Hamilton. Vettel would set a 1m:20.456 to be second ahead of Hamilton. Verstappen and Ricciardo were fourth and fifth ahead of Sainz. Hamilton was now out on the soft tyre and would set a 1m:20.595 remaining third.

Hulkenberg would move up to fourth after his soft tyre run. After their soft tyre runs the Williams drivers would currently be fifth and ninth with seven minutes remaining. Bottas was now out on the track as Sainz went sixth. Bottas was now up in fourth after his flying lap to be behind Hamilton. Verstappen was now fifth and Ricciardo sixth. With the end of the session the Williams drivers were eighth and seventeenth. The top ten was Raikkonen, Vettel, Hamilton, Bottas, Verstappen, Ricciardo, Hulkenberg, Felipe, Sainz and Alonso tenth. Qualifying for Felipe should see him through into the final period but it is going to be difficult for Lance to get past the opening period.

Felipe Massa:
Felipe would follow his team-mate out onto the track also on the hard tyre. Felipe would return to the track running on new medium tyres. Felipe's first lap was a 1m:24.721 to be fourth, dropping to sixth. Felipe would drop to ninth as others went quicker. Felipe would continue his run on the medium tyre currently in twelfth with twenty eight minutes remaining. Felipe would pit now fourteenth. With twenty minutes remaining Felipe was now fifteenth. Felipe would join Lance out for his soft tyre run. His flying lap would see him set a 1m:21.746 to be fifth. Felipe had a lockup and a slightly wide moment on that flying lap lap. Felipe would pit briefly after a six lap run. In the pits he would drop to eighth.

Lance Stroll:
Lance would be first out for his installation lap running on the hard tyre for most likely the last time. Lance would return for his first run using used soft tyres. Lance's first lap was a 1m:24.982 to be ninth but his next lap was a 1m:23.885 moving up to fifth. Lance continued to push on the soft tyre setting a 1m:23.875 but remaining fifth. Lance would tell his engineer that the grip was pretty consistent. Lance would drop to seventh currently eleven laps into his run on the soft tyre. Lance would also pit with his soft tyres having completed sixteen laps. Fifteen minutes remaining and Lance would come out running on new soft tyres. Lance would set a 1m:22.574 to now be sixth but his time was 2.3 seconds slower than the quickest time. Lance would set personal bests in the first two sectors but would not improve his time in the final one remaining sixth. But he would drop to twelfth as others went quicker. As others completed their soft tyre runs Lance would continue to drop down the order been seventeenth.
| Pos | Driver | Car | Time | Gap | Laps |
| --- | --- | --- | --- | --- | --- |
| 1 | Kimi Raikkonen | Ferrari | 1m20.214s | - | 20 |
| 2 | Sebastian Vettel | Ferrari | 1m20.456s | 0.242s | 7 |
| 3 | Lewis Hamilton | Mercedes | 1m20.595s | 0.381s | 12 |
| 4 | Valtteri Bottas | Mercedes | 1m20.868s | 0.654s | 7 |
| 5 | Max Verstappen | Red Bull/Renault | 1m21.025s | 0.811s | 14 |
| 6 | Daniel Ricciardo | Red Bull/Renault | 1m21.249s | 1.035s | 15 |
| 7 | Nico Hulkenberg | Renault | 1m21.670s | 1.456s | 13 |
| 8 | Felipe Massa | Williams/Mercedes | 1m21.746s | 1.532s | 19 |
| 9 | Carlos Sainz | Toro Rosso/Renault | 1m21.835s | 1.621s | 19 |
| 10 | Fernando Alonso | McLaren/Honda | 1m22.093s | 1.879s | 16 |
| 11 | Romain Grosjean | Haas/Ferrari | 1m22.128s | 1.914s | 21 |
| 12 | Kevin Magnussen | Haas/Ferrari | 1m22.214s | 2.000s | 12 |
| 13 | Sergio Perez | Force India/Mercedes | 1m22.237s | 2.023s | 19 |
| 14 | Esteban Ocon | Force India/Mercedes | 1m22.297s | 2.083s | 22 |
| 15 | Daniil Kvyat | Toro Rosso/Renault | 1m22.391s | 2.177s | 15 |
| 16 | Marcus Ericsson | Sauber/Ferrari | 1m22.513s | 2.299s | 20 |
| 17 | Lance Stroll | Williams/Mercedes | 1m22.574s | 2.360s | 19 |
| 18 | Jolyon Palmer | Renault | 1m22.755s | 2.541s | 13 |
| 19 | Stoffel Vandoorne | McLaren/Honda | 1m22.853s | 2.639s | 15 |
| 20 | Pascal Wehrlein | Sauber/Ferrari | 1m22.974s | 2.760s | 19 |