Spanish GP: Williams Martini struggles in qualifying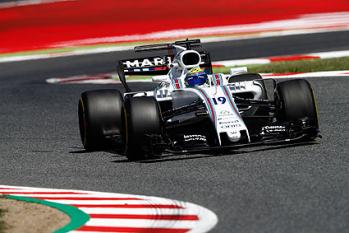 By Andrew Hooper
May 13 2017
The results of qualifying for the 2017 Spanish GP would see the Williams Martini team struggle. Team drivers Felipe Massa and Lance Stroll would both have difficulties getting the best from the FW40. Felipe would make it into the final period but would finish only in 9th. For Lance his qualfying would not go beyond the first period with Lance finishing in a disappointing 18th. For him the result was even more frustrating as it was this track on which he complete pre-season testing. Sunday's race is again going to be a case of damage limitation for the Williams team.
Williams Martini Spanish Grand Prix Qualifying
Team Summary:
The opening eighteen minute period would see a mix of tyre types as drivers started to take to the track. Most drivers were on the soft tyre as Vandoorne set a 1m:23.219. Vettel was told to stop and then to try and return to his pit after the team had been forced to change his engine after FP3. Vettel would work with his engineer and was able to recover from the issue and would continue to set a 1m:20.939 to be quickest. Bottas would go second but this would become third as Hamilton went quickest with a 1m:20.511. Ricciardo was now fourth but Verstappen would move ahead. Raikkonen was now fourth followed by Verstappen, Ricciardo, Perez, Sainz, Ocon and Hulkenberg tenth.

For Williams after their first runs they were thirteenth and seventeenth. Raikkonen had gone second with a 1m:20.742 on a second run on his soft tyres. Grosjean would move up to seventh and Magnussen eighth. Alonso would move up to tenth ending the period in twelfth. The top ten was Hamilton, Raikkonen, Vettel, Bottas, Verstappen, Ricciardo, Grosjean, Ocon, Sainz, and Magnussen tenth. After the opening period the Williams team would see Felipe through in fourteenth while the other was out of qualifying with Lance eighteenth.

The second period would commence with the drivers been reminded that this would be their race start set of tyres. Hamilton would set a 1m:20.210 with Raikkonen second 0.411 behind. Bottas was now second with a 1m:20.300 just 0.090 behind Hamilton. Raikkonen was third followed by Sainz and Ocon. Ricciardo was now fourth while Vettel would go second. Verstappen would go fifth followed by Ricciardo, Sainz, Ocon, Magnussen and Alonso. For Williams Felipe was down in twelfth as looking like he would not make it through to the final period. Three minutes remaining and drivers would start to come back out for their second runs. The top six were still in their pits as everyone else started their flying laps. Hulkenberg would go eighth while Alonso would go seventh but both Ocon and Felipe would move ahead of the McLaren. Ninth was Perez with Alonso tenth.

The final period would get underway with only six cars coming out. The Mercedes and Ferrari's were swapping quickest sector times as Bottas set a 1m:19.390 but Hamilton would go quicker with a 1m:19.149. Raikkonen would finish third and Vettel fourth followed by Ricciardo. Verstappen would move ahead to be fifth and Ricciardo sixth. The track was now empty as everyone prepared for their second and in some cases their first runs. Alonso would be first out followed by Bottas and Hamilton. All ten cars were out on the track with Alonso setting a 1m:21.048 to be seventh ahead of Ocon. Bottas would set a 1m:19.373 remaining second. But Vettel would go second with a 1m:19.200 while Raikkonen remains fourth. Verstappen was fifth followed by Ricciardo and Alonso, Perez, Felipe, and Ocon tenth. Sunday's race is again to be a difficult time for the Williams team.
Felipe Massa:
Felipe would also come out on the soft tyre and after his flying lap he would set a 1m:22.390 to be fourth . This would become fifth as Sainz moved ahead. Felipe would drop down the order to be ninth with eight minutes remaining. As he pitted it would be twelfth. Four minutes remaining and Felipe was thirteenth. As Felipe came out for his second run he was fifteenth and looking to get away from the drop zone. Felipe would set a 1m:22.138 to be only fourteenth. It was not the result that Felipe would have hoped for as it was looking like it would be hard to make it into the final period. Felipe said "I'm struggling a lot to make the tyres work, very tricky. It's fortunate [to be through to Q2, 14th] because it was pretty difficult."

Felipe would start the second period running on a new set of soft tyres. Felipe would set a 1m:21.639 to be seventh. He would drop to twelfth after his first run having pitted. His comments regarding how he was struggling were certainly been proved correct. Felipe would come back out on a new set of soft tyres. Felipe would set a 1m:21.222 and would finish the period in eighth, a great recovery. The final period would see Felipe remain in his pit looking at a single run. With just over two minutes remaining Felipe would come out for his run. Felipe would set a 1m:21.232 which would see him finish ninth.
Lance Stroll:
Lance would be first out in the opening period out on the soft tyres. Lance would set a 1m:23.068 to be third. He would drop to sixth as he was told by his engineer that the track conditions were slower than this morning. Lance would pit currently in eleventh. With five minutes remaining Lance had dropped to seventeenth. Lance would return to the track with a new set of soft tyres. Lance was told that the track had improved by about six tenths. Lance would set a 1m:22.411 to still be in the drop zone been eighteenth. This would mean that Lance was out of qualifying.
View a Printer Friendly version of this Story.
Spanish GP: Williams Martini struggles in qualifying
Williams F1 (IP Logged)
13/05/2017 14:39
What do you think? You can have your say by posting below.
If you do not already have an account
Click here to Register
.
Sorry, only registered users may post in this forum.