British GP: Disappointing qualifying for Williams Martini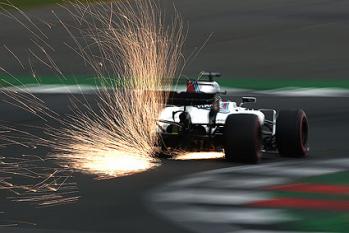 By Andrew Hooper
July 16 2017
Qualifying for the 2017 British GP would see the Williams Martini team suffer another disappointing result with both drivers qualfying towards the rear of the field. For Lance Stroll his session would see him have to contend with tricky conditions in the first period with the track wet. Lance would be knocked out in what was a difficult session given his limited expereience. For team-mate Felipe Massa he would see his qualifying end in the second period not been able to extract the pace out of the car that the team had seen in practice. With other drivers penalties Felipe and Lance will start the race from 14th and 15th.
Williams Martini British Grand Prix Qualifying
Team Summary:
With the weather conditions seeing light rain falling the track conditions were uncertain. It was looking like some drivers would use intermediate tyres but others also were out on the super soft tyre for the eighteen minute period. Verstappen would say to his engineer that it was definitely a track for intermediate tyres. Vettel would support this. Ricciardo would set a 1m:42.966 with Hulkenberg second and Verstappen third. Drivers were trying to find the quickest lines as Hamilton went third. Ricciardo would stop at the side of the track with a engine problem. Ricciardo would say: "I've got a problem... could be the turbo." This will see him at the back of the grid. The period would be red flagged with Ricciardo still fastest followed by Hulkenberg, Hamilton, Verstappen, Vettel, Sainz, Bottas, Grosjean, Vandoorne and Ocon.

With ten minutes remaining the session would restart. With a large number of penalties to take due to engine changes Alonso would remain in his pit. Vettel would go quickest with a 1m:40.056 followed by Hamilton and Perez. Four minutes remaining and the rain had eased with Grosjean up to fourth. Raikkonen was now second but Verstappen would go quickest with a 1m:38.912. Hamilton was now second and Bottas third. It was changing rapidly as Ocon pitted and came out on the super soft tyre. Hulkenberg was now third as Ocon moved up to fifth on the dry tyre. Alonso was also able to come in and take on super soft tyres and he would use them to set the quickest time with a 1m:37.598. The Williams drivers would finish the period in thirteenth and sixteenth, seeing one Williams out of qualifying.

With the start of the second fifteen minute period drivers would start to use the dry tyres with the majority on the super soft tyre. Bottas was on the soft tyre with it looking like Mercedes was going to see Bottas start the race on this tyre. Raikkonen was to be quickest with a 1m:32.171 followed by Vettel, Alonso, and Grosjean after their first runs. Hamilton would go quickest with a 1m:31.145 but Hulkenberg would go quicker with a 1m:31.085 as the times continued to fall. Bottas was third followed by Perez, Grosjean and Ocon. Verstappen would move up to second behind Bottas. Bottas had set a 1m:29.687.

With seven minutes remaining and Vettel was second but Hamilton would go quickest with a 1m:29.097 followed by Bottas and Vettel. At the front Vettel was now quickest followed by Raikkonen and Hamilton now third. Verstappen was fourth followed by Bottas, Hulkenberg and Vandoorne. Hamilton would again improve with a 1m:27.893 with Bottas second. For Williams Felipe would finish in fifteenth seeing both Williams cars out of qualifying. Felipe would finish one place ahead of team-mate Lance. Again the Williams team will see both their cars start from close to the rear of the grid, not the way the Williams team would look to start their home race.

The final period would see Hamilton go quickest with a 1m:27.231 followed by Bottas. Vettel would move up to second and Raikkonen fourth. Verstappen would jump up to fifth followed by Hulkenberg, Perez, and Ocon. Everyone would pit after their first runs while Grosjean had complained that he had been blocked by Hamilton and it would be under investigation. After their second runs Hamilton would go even quicker with a 1m:26.600 with Raikkonen now second and Bottas third. Vettel would move up to third seeing Bottas fourth. Bottas would now start from ninth due to his gearbox penalty. Fifth was Verstappen followed by Hulkenberg, Perez, Ocon, Vandoorne, and Grosjean tenth. With the penalties of others drivers Felipe and Lance will start the race in fourteenth and fifteenth, but this is awaiting the investigation of Hamilton.
Felipe Massa:
Felipe would be first out for Williams running on super soft tyres. Felipe would put after a single lap switching to intermediates. Felipe would set a 1m:44.889 to be eleventh. Felipe would take to the track early with the restart of the session. Felipe had dropped to thirteenth but a lap of 1m:43.163 would see him jump to fourth. This would become sixth as others also improved. A 1m:42.579 from Felipe but he would remain sixth behind Bottas. Felipe would drop to tenth but would find time with a 1m:41.874 to be seventh. Quickly he would drop to thirteenth with the end of the period. Felipe would come out on the super soft tyre for his second period run. Felipe would set a 1m:34.143 to only be thirteenth. Felipe had pitted taking on a news et of super soft tyres. Felipe was on a quicker lap and would set a 1m:31.664 but would remain down the times in fourteenth. He would drop to fifteen his qualifying over.
Lance Stroll:
Lance would also come out on the super soft tyre but he would also pit after a single lap switching to the intermediate tyre. Lance had set a 1m:46.783 to be sixteenth. Lance would also get out early looking to improve his time. Lance would set a 1m:44.226 to be fifteenth in what is a difficult session given his limited wet weather running. This would become sixteenth but Lance would also improve with a 1m:42.573 to move up to twelfth. He would also drop down the order been sixteenth as the period ended. This would see him out of qualifying but it was a difficult one for Lance given the changing conditions and his limited experience.