Belgian GP: Williams Martini not competitive in qualifying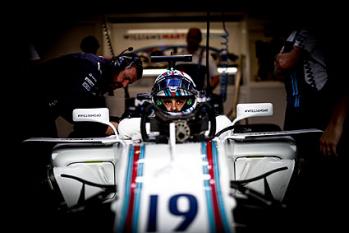 By Andrew Hooper
August 27 2017
To add to the frustrations of the practice sessions leading up to qualifying for the 2017 Belgian GP qualifying itself turned out to be another disappointing session for the Williams Martini team. Prior to the start of the session Felipe Massa would receive a five place grid penalty for a failure to slow down under yellow flags. Qualifying itself would see both Williams cars fail to get past the first period with Felipe Massa finishing 16th and team-mate Lance Stroll 18th. The session added more to the view that the FW40 is simply uncompetitive even at tracks where they had in the past done well. Sundays race is again going to be another case of damage limitations but at least their championship rivals Torro Rosso also qualified at the rear.
Williams Martini Belgian Grand Prix Qualifying
Team Summary:
Qualifying for Williams was going to be a challenge with both team drivers down the order in their practice sessions times. The first eighteen minute period would commence with both Williams drivers coming out on the ultra soft tyre. Other drivers would be using a mix of soft, super soft and ultra soft tyres. Ferrari and Mercedes were on the super soft tyre. Both Force India cars would pit changing from the soft tyre to the . Hamilton would set a 1m:44316 to be quickest with Raikkonen second followed by Bottas. Vettel would go fastest with a 1m:44.275. With ten minutes remaining the Williams drivers were tenth and twelfth, but they were quickly dropping down the times. Verstappen was now third while Hamilton had gone fastest with a 1m:44.184. Team-mate Ricciardo was in sixth followed by Ocon and Perez.

With four minutes remaining the Williams drivers were in fifteenth and eighteenth. Palmer was in eighth and Hulkenberg eleventh in their Renault's. Magnussen was able to move up to ninth while for McLaren Alonso was eleevnt5h and Vandoorne twelfth. With the end of the first period both Williams cars would see their qualifying over with Felipe and Lance only managing sixteenth and eighteenth. This was the third time in the last four races that had seen both Williams cars out after the first period.

The second period would see the first runs with Hamilton quickest with a 1m:43.539 with Raikkonen second followed by Bottas. Verstappen was fourth followed by Vettel and Ricciardo. Palmer was in seventh followed by Ocon, Perez, and Alonso tenth. The second runs would see Hamilton set a 1m:42.927 now followed by Bottas, Raikkonen, and Verstappen. Vettel was fifth followed by Ricciardo, Palmer, Perez, Hulkenberg, and Ocon. Alonso had dropped out of the top ten with an engine issue. The final period would see Palmer stop with a gearbox issue prior to him setting a time. After the first runs Hamilton was quickest with a 1m:42.907 followed by Raikkonen and Bottas. Vettel was fourth with Verstappen and Ricciardo fifth and sixth. The second runs would see Hamilton remain quickest with a 1m:42.553 with Vettel now second followed by Bottas, Raikkonen, Verstappen, Ricciardo, Hulkenberg, Perez, Ocon, and Palmer tenth.
Felipe Massa:
Felipe was facing a five place grid penalty prior to qualifying and he would join Lance out on the track also on the ultra soft tyre. Felipe would set a 1m:46.482 to be fifth if only temporarily. Felipe would drop to seventh and as the period continued he was down in thirteenth as he pitted after a four lap run. Felipe had not been able to improve his time prior to pitting. He would drop to fifteenth while he was in his pit. Felipe was only just safe as he returned on a new set of ultra soft tyres. He had dropped to sixteenth and outside the top fifteen. Felipe was able to finish with a 1m:45.823 to be fifteenth but he would drop to sixteenth and out of qualifying.
Lance Stroll:
Lance would take to the track on the ultra soft tyre and would set a 1m:47.046 to be sixth. AS others wet quicker he would drop to ninth to be behind Grosjean. He would continue to drop down the times pitting from fifteenth, despite having improved his time with a 1m:46.915. Six minutes remaining and Lance was down in eighteenth. With two minutes remaining Lance was still in his pit with either an issue of the team had decided that there was not to be gained by running again so he was out of qualifying. Lance would explain that a problem with the rear wing of his Williams prevented him from making a second run in Q1.