Italian GP: Encouraging start for Williams Martini in FP1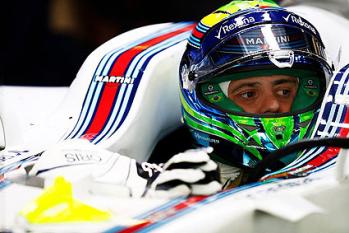 By Andrew Hooper
September 1 2017
The opening Friday practice for the 2017 Italian Grand Prix would be an encouraging one for the Williasm Martini team. The session would be largely uneventful for the Williams team with Felipe Massa finishing in tenth and Lance Stroll thirteenth. The only issue was a lock-up from Lance flat spotting his front tyre going into the first chicane. The team would also trial a new rear wing on Felipe's car.
Williams Martini Italian GP Friday 1st Practice
Team Summary:
The opening Friday practice for the 2017 Italian Grand Prix would see an encouraging start to the weekend for the Williams Martini team. Team drivers Felipe Massa and Lance Stroll would finish in tenth and thirteenth positions respectively.

The session would see both Williams drivers use the super soft tyre for their first runs with the pair setting the early quickest times. Felipe's early time was a 1m:25.553 but this was easily beaten by Hamilton. Replays would show Lance suffering a lock-up at the first chicane, slowing the car down in time to take to the run-off. Lance would report a flat spot of his left front. After the first half hour neither Williams driver was in the top ten. As the session progressed Hamilton would improve with a 1m:21.868. Lance was able to improve to eleventh from been well down the times. Hamilton's early times were set on the soft tyre but his super soft tyre run would see a 1m:21.537. At one point in the session Lance was in front of Felipe with Lance in eleventh.

After the first hour of running Felipe had improved to be tenth and Lance now thirteenth. But there was the threat of rain and it would start with around fifteen minutes remaining in the session. The rain would ease off seeing both Williams drivers taking to the track with ten minutes remaining. The session would end with the Williams drivers remaining in their positions. But after the first session the Mercedes cars were well ahead of the rest of the field.
| Pos | Driver | Car | Time | Gap | Laps |
| --- | --- | --- | --- | --- | --- |
| 1 | Lewis Hamilton | Mercedes | 1m21.537s | - | 28 |
| 2 | Valtteri Bottas | Mercedes | 1m21.972s | 0.435s | 31 |
| 3 | Sebastian Vettel | Ferrari | 1m22.652s | 1.115s | 24 |
| 4 | Kimi Raikkonen | Ferrari | 1m22.689s | 1.152s | 28 |
| 5 | Daniel Ricciardo | Red Bull/Renault | 1m22.742s | 1.205s | 28 |
| 6 | Max Verstappen | Red Bull/Renault | 1m22.749s | 1.212s | 23 |
| 7 | Sergio Perez | Force India/Mercedes | 1m23.317s | 1.780s | 36 |
| 8 | Esteban Ocon | Force India/Mercedes | 1m23.400s | 1.863s | 34 |
| 9 | Stoffel Vandoorne | McLaren/Honda | 1m23.465s | 1.928s | 24 |
| 10 | Felipe Massa | Williams/Mercedes | 1m23.561s | 2.024s | 37 |
| 11 | Carlos Sainz | Toro Rosso/Renault | 1m23.680s | 2.143s | 22 |
| 12 | Kevin Magnussen | Haas/Ferrari | 1m23.973s | 2.436s | 22 |
| 13 | Lance Stroll | Williams/Mercedes | 1m23.991s | 2.454s | 30 |
| 14 | Daniil Kvyat | Toro Rosso/Renault | 1m24.012s | 2.475s | 27 |
| 15 | Fernando Alonso | McLaren/Honda | 1m24.015s | 2.478s | 17 |
| 16 | Romain Grosjean | Haas/Ferrari | 1m24.079s | 2.542s | 22 |
| 17 | Nico Hulkenberg | Renault | 1m24.542s | 3.005s | 17 |
| 18 | Jolyon Palmer | Renault | 1m25.166s | 3.629s | 21 |
| 19 | Pascal Wehrlein | Sauber/Ferrari | 1m25.223s | 3.686s | 26 |
| 20 | Marcus Ericsson | Sauber/Ferrari | 1m25.687s | 4.150s | 17 |