Singapore GP: Williams Martini Grand Prix Preview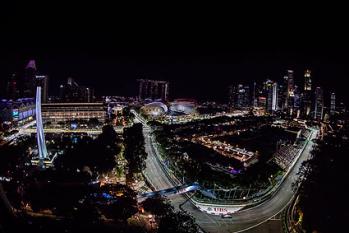 By Williams Martini Racing
September 14 2017
In what is the first of a series of overseas races the Williams Martini team moves to the Marina Bay Circuit for the 2017 Singapore GP. It is a night race held on a street circuit which produces its own set of demands, including heavy braking and lots of kerbs. For the Williams team they are hoping to continue the good form shown in the last race in Italy. For team drivers Felipe Massa and Lance Stroll they are approaching the race from different pooints of view. For Felipe it is a race that he has run in on several occassions but for Lance it is his first time at this circuit which means he has a lot to learn.
Held at the glamorous Marina Bay street circuit, the Singapore night race sees Formula One enter the final international leg of the season. The circuit is famous for being the first night race to ever be held, as well as the first street circuit in Asia to host an F1 race. Typically, the twisty layout of the track means itís a great viewing opportunity for the fans with slower laps and the added likelihood of a safety car. The circuit has been adjusted several times since its opening to meet new safety regulations and create added thrill during the race; the last change occurring in 2015. Being 137 kilometres from the equator, the temperature within the cockpit can reach staggering highs of 60 įC, adding to the challenge within the tropical climate.
PADDY LOWE:
We head to Singapore this weekend, and into one of the most unique races on the calendar. This was the very first race to be held in the evening under floodlights and it creates a very special magic to the event that we see nowhere else. The Marina Bay street circuit itself requires high downforce and good mechanical grip. It is hard on brakes and with a lot of kerbs it is very tough on the cars. With a very slow characteristic speed, but still the full 300km race distance (unlike Monaco), we very often see the race reaching the two hour limit. The heat and humidity is intense even without the sun. Putting this together is one of the most challenging races for the drivers and the cars, hence we see many incidents as cars break and drivers become fatigued. All this makes for an exciting and dramatic spectacle! From Williamsí perspective we look forward to continuing the good momentum we had in Monza into the final seven flyaway races of the season starting here.
FELIPE MASSA:
While we have three night races, Singapore is the only one in the middle of the city, in the middle of the night, and itís great. I am looking forward to the race, although I know it will be very hot and humid, which makes it one of the most difficult tracks. As always, I am hoping we can have a good result.

LANCE STROLL:
Singapore is new territory for me, but I donít mind that at all. So far the only night race I have done was in Bahrain, but this will obviously be very different as it is on a street circuit. I like the looks of the track from what I have seen and certainly it appears to be very technical. While I am sure Singapore as a place to visit is really cool, the temperature when we race there will be the exact opposite and the conditions will be hot and humid. The race should be really demanding physically and we will do a bit of training in the heat before going there. However, really you just have to carry on with the normal training and then suffer through the conditions.

Race Data
Friday:
Practice 1: 16:30 - 18:00
Practice 2: 20:30 - 22:00
Saturday:
Practice 3: 18:00 - 19:00
Qualifying: 21:00 Ė 22:00
Sunday: Race: 20:00