Brazilian GP: Williams Martini Grand Prix Preview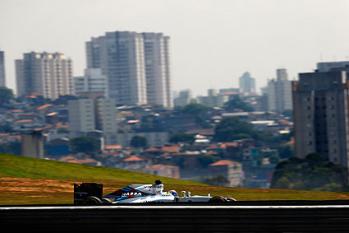 By Williams Martini Racing
November 9 2017
The Williams Martini team moves to the Interlagos circuit for the 2017 Brazilian GP. It is a special race for the team as it marks the final home race for Feipe Massa. The team is hoping to see a result that will allow Felipe to take away good memories. For team-mate Lance Stroll he is keen to get to the track and experience the Brazilian atmosphere. For the Williams team they are hoping to secure a result that will allow them to retain their fifth place in the championship.
Up next on the race calendar is the Brazilian Grand Prix, a special date in the calendar for Felipe Massa, as he returns to his home turf. The track also holds many enjoyable memories for the team as a whole, with a successful history at the circuit including six race victories. S"o Paulo sits at a high altitude meaning the power units must work harder to provide the same level of performance! This level of performance however is constantly topped-up by enthusiasm from the crowd. After a disappointing retirement for Felipe last year and an emotional farewell at the time, the team hopes for further success in 2017 with the FW40, spurred by support from the Brazilian fans.
PADDY LOWE:
It will be very special going to Brazil with Felipe for his final Formula One race on home soil. It is a track that has generated huge drama and emotion over the years, not least with Felipeís win in 2008 where he narrowly lost the World Championship. The Autůdromo Josť Carlos Pace, formerly Interlagos, is a tremendous circuit with significant elevation and most of the circuit being visible from many of the spectator areas. There are some challenging corners and a long uphill straight to the finish line which benefits good car handling and engine power. Our focus for the weekend will be on getting a good result for the team and importantly, for Felipe to give him another good memory to take with him from his four years at Williams, ahead of his final Formula One race in Abu Dhabi. The Brazilian fans are reliably enthusiastic and so we hope to put on a good show for them.
FELIPE MASSA:
Brazil, my home race! It is always very special, and I will never forget what happened last year. Last yearís result was terrible, but the love, people and reception I witnessed was amazing. Itís fantastic to race at home, in the place where I started my career, and Iím looking forward to having a good race. Iíve had many good races in Brazil. Unfortunately, the last two years I didnít but I really hope we can this year and I can enjoy being in my town, with my people. I really hope we have a good result, that is the most important thing.

LANCE STROLL:
Obviously, Brazil will be special for the whole team as it is Felipeís home race. I have been able to soak up some knowledge and history of Brazil over the past couple of years, so I canít wait to get there for the first time to experience it. It is also another great race for food and I am looking forward to a good churrascaria. The circuit itself is legendary, and I know there have been some great podiums there with lots of tears shed. I know you can see over the city of Sao Paulo from the track so I canít wait to get there to see it for myself and experience the atmosphere.

Race Data
Friday:
Practice 1: 10:00 - 11:30
Practice 2: 14:00 - 15:30
Saturday:
Practice 3: 11:00 - 12:00
Qualifying: 14:00 Ė 15:00
Sunday: Race: 14:00