Brazilian GP: Frustrating FP3 for Williams Martini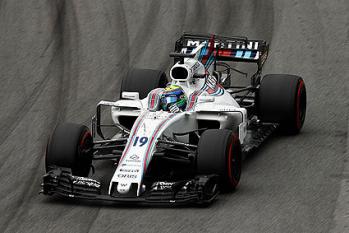 By Andrew Hooper
November 11 2017
The final practice session for the 2017 Brazilian GP would be a frustrating time for the Williams Martini team. Firstly they would have to cope with the retirement of Lance Stroll out on the track with a loss of power. He had yet to set a time prior to the failure. As for team-mate Felipe Massa his final option tyre run would be ruined when he was to come across another car that had spun forcing him to abort his lap. Felipe would finish the session in 12th. Not the results that the team would have hope for going into qualifying.
Williams Martini Brazilian GP Saturday Practice
Team Summary:
With the possibility of rain affecting the session there would be a rush of cars coming out for the final Saturday practice for the 2017 Brazilian Grand Prix. The first time would come from Alonso with a 1m:12.829 set using the medium tyre. Hartley using the super soft tyre would go quickest with a 1m:12.743. The session would go wrong for the Williams team when Lance would stop with no power without setting a time. This would see the Virtual Safety Car deployed but after a short period the session would go green again. Raikkonen would go quickest with a 1m:09.928 using the super soft tyre followed by Hulkenberg and Vandoorne. Bottas was now second using the soft tyre but Hamilton would go quicker taking second. A 1m:09.646 from Raikkonen as Vettel went second followed by Hamilton and Bottas.

Alonso also on the soft tyre would move ahead of Bottas. Ocon was sixth also on the soft tyre followed by Sainz and Hulkenberg. Vandoorne was able to move up to seventh. Bottas would move back to fourth with Alonso now fifth. After their first runs the Williams team would see their only driver in seventh. Verstappen was now in sixth running on the soft tyre. The top drivers would start their super soft tyre runs. Vettel would go quickest with a 1m:09.339 but Raikkonen would go ahead with a 1m:09.326. Hamilton was third followed by Bottas and Alonso. Verstappen and Ricciardo were sixth and seventh. But Bottas would go quickest with a 1m:09.281 with Hamilton close behind in second. Perez and Ocon would move up to sixth and seventh after their super soft tyre runs. Ricciardo was now fifth ahead of Alonso. Verstappen was down in ninth having pitted having gone off the track at the exit of Turn twelve.

With the end of the session it would be Bottas quickest from Hamilton, Raikkonen, Vettel, Ricciardo, Alonso, Perez, Ocon, Verstappen and Sainz in tenth. For Williams their only driver able to set a time would finish in twelfth with the other at the bottom of the times. Not a great session for the team with one driver retiring and the other having to abort his final run on the super soft tyre.

Felipe Massa:
Felipe would be first out on the track f9or Williams running on the medium tyre. Felipe would pit with out setting a time. Twenty minutes into the session and Felipe had yet to come back out. He would finally come out with half the session completed this time on the super soft tyre. Felipe would finish with a 1m:10.671 to be seventh. Felipe would pit after a seven lap run. Felipe would tell his engineer that there was rain falling. While in his pit Felipe would drop to ninth. Felipe was still in his pit with thirteen minutes remaining. He was currently tenth. Felipe would return running on a new set of super soft tyres. Felipe had dropped to eleventh with three minutes remaining. But Felipe's lap would be ruined by the Red Bull of Verstappen that had spun. Felipe would end without making any improvement but having dropped to twelfth.

Lance Stroll:
Eight minutes into the session and Lance had yet to come out for his first run. But he would finally come out running on the medium tyre but he would come to a stop on the fast up hill corner with what he reported was a loss of power and that he had no drive at all. It looked like this was the end of the session for Lance. Williams would report that a gearbox and engine change would be required for Lance after that shutdown in the session. The team would be forced to reuse an old engine, but the gearbox change would incur a five-place grid penalty.
| Pos | Driver | Team | Gap |
| --- | --- | --- | --- |
| 1 | Valtteri Bottas | Mercedes AMG Petronas F1 Team | 1m09.281s |
| 2 | Lewis Hamilton | Mercedes AMG Petronas F1 Team | 0.003s |
| 3 | Kimi Raikkonen | Scuderia Ferrari | 0.045s |
| 4 | Sebastian Vettel | Scuderia Ferrari | 0.058s |
| 5 | Daniel Ricciardo | Red Bull Racing | 0.963s |
| 6 | Fernando Alonso | McLaren Honda | 1.007s |
| 7 | Sergio Perez | Sahara Force India F1 Team | 1.041s |
| 8 | Esteban Ocon | Sahara Force India F1 Team | 1.076s |
| 9 | Max Verstappen | Red Bull Racing | 1.214s |
| 10 | Carlos Sainz | Renault Sport F1 Team | 1.318s |
| 11 | Stoffel Vandoorne | McLaren Honda | 1.356s |
| 12 | Felipe Massa | Williams Martini Racing | 1.390s |
| 13 | Kevin Magnussen | Haas F1 Team | 1.440s |
| 14 | Nico Hulkenberg | Renault Sport F1 Team | 1.462s |
| 15 | Romain Grosjean | Haas F1 Team | 1.481s |
| 16 | Pierre Gasly | Scuderia Toro Rosso | 1.700s |
| 17 | Brendon Hartley | Scuderia Toro Rosso | 1.804s |
| 18 | Pascal Wehrlein | Sauber F1 Team | 1.845s |
| 19 | Marcus Ericsson | Sauber F1 Team | 2.199s |
| 20 | Lance Stroll | Williams Martini Racing | - |