Abu Dhabi GP: Williams Martini Grand Prix Preview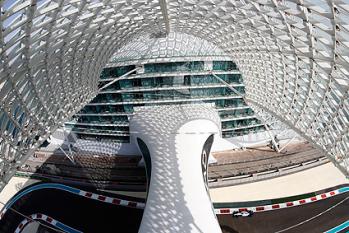 By Williams Martini Racing
November 21 2017
In what is the final race of the 2017 Formula One season the Williams Martini team moves to the Yas Marina circuit for the 2017 Abu Dhabi Grand Prix. This race will mark the end of the Formula One career for Felipe Massa as well as the last race in rookie Lance Stroll's first season of Formula One. It is for this reason that the Williams team is hopeful of ending the season on a high note for both drivers as well as ensyring they finish the season in fifth position in the championship.
Round 20 of the 2017 Formula One World Championship sees us travel back to the Middle East for Formula One's season finale at the Yas Marina Circuit in Abu Dhabi. The circuit features 55 anticlockwise laps around the Yas Island, and boasts one of the longest straights on the Formula One calendar at 1,233 metres. Known for its sequence of signature corners that pass under the Yas Viceroy hotel, the circuit also possesses a unique pit exit that emerges from beneath the track. A picturesque twilight race, the Abu Dhabi Grand Prix is a firm favourite amongst photographers as it starts during daylight and ends under the floodlights, providing some of the best action shots of the season. The team has recorded several points-finishes, as well as podiums, in previous years and will be hoping to continue this level of success at the Championship's curtain closer.
PADDY LOWE:
Abu Dhabi is the final race to end a long season for all the teams and drivers. It is a fantastic destination for a Formula One race with a certain glamour and party atmosphere for the spectators and fans to enjoy. The Yas Marina itself is spectacular with both qualifying and the race happening at twilight which gives it an extra magical feel as we take to the track. The circuit rewards all-round car performance with a full range of cornering speeds and two long straights. This is Felipe's final race with us, and his final in Formula One, so part of our focus will be on making sure he ends his Formula One career on a good note. It is also the final race of Lance's rookie season so we want to support him in his ambition to end on a high before heading into the winter break.
FELIPE MASSA:
Abu Dhabi is always a nice race and a place I always like to visit. The people go crazy for Formula One as well, so I hope to see the track completely full! There are so many parties and boats around the track, and so many people enjoying themselves and getting excited for the race. The track infrastructure is one of the best in the world too. For me, it will be quite an emotional weekend as it will be my final race with Williams as well as my final race in Formula One. I am looking forward to it and plan to enjoy every moment, to finish my Formula One career on a high note!

LANCE STROLL:
I went there last year just after I was confirmed as a Williams Martini Racing driver, and it was a great event. In my view, it is a wonderful place to finish off the season. It is in the desert and they really put on a show, so this will certainly be a fitting end to the season. The circuit itself wouldn't be my favourite as it is very stop and go and doesn't have a great flow to it but, despite that, the show is great and so good for the fans. One very interesting thing is the pit lane exit which is in a tunnel under the track, which is pretty different.

Race Data
Friday:
Practice 1: 13:00 - 14:30
Practice 2: 17:00 - 18:30
Saturday:
Practice 3: 14:00 - 15:00
Qualifying: 17:00 – 18:00
Sunday: Race: 17:00