Bahrain GP: Weekend to forget for Williams Martini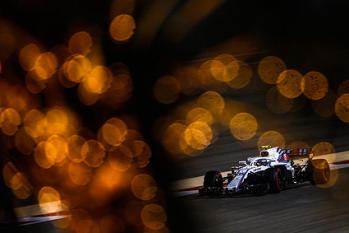 By Williams Martini Racing
April 9 2018
The Williams Martini team would see both their drivers struggle in the 2018 Bahrain GP, bringing to an end a weekeend that saw little of promise for the Williams team. Lance Stroll would finish in 14th while team-mate Sergey Sirotkin was even further down the order in 16th. For Lance his race would see him forced to pit and take on a new front wing which cost him 10 seconds. Despite their lack of pace both drivers would be satisfied with their performances given the limitations of the FW41.
Williams Martini Bahrain GP Race Review
Race Notes
• Lance Stroll finished 16th and Sergey Sirotkin 17th in the Bahrain Grand Prix
• Both cars started on the soft Pirelli tyre, with Sergey starting 18th and Lance 20th
• Both cars made the most of a frenetic opening lap, with Lance moving up to 15th and Sergey 17th
• Lance suffered damage and had to pit earlier than expected for a new front-wing, which hindered his race strategy
• Sergey ran as high as 11th during the race and pitted for the medium tyre on lap 22
• He made his second and final stop on lap 40 for the supersoft tyre, re-joining in 17th behind Lance in 16th


Sergey Sirotkin:
"It's not so easy to summarise the race. This was my first F1 race distance. It was a good experience, but we switched our plan. Our strategy was a two-stop, which we ended up sticking with and it was not optimum as I think we lost a bit of track time with that. Then I was caught by quite a lot of lapped cars, so again I lost quite a bit of track time. The pace was OK but we cannot follow other cars. It's something we definitely need to improve. It's a big problem on the first lap as it's impossible to fight people without damaging the front tyre. However, as we said a few days ago, we're just trying to get to the end of the race. I tried all the tyre compounds, so it was a good experience and I came up with some good pace on the last set, so it was a reasonable improvement. Now we go to China."
Lance Stroll:
"I was really happy with my race, even though we were nowhere in terms of position. I had a really good start and picked up five positions, so I was happy about that. After that I touched the front wing fighting with Grosjean, so I had to box early and we lost 10 seconds as we had to change the front wing at the stop. But I managed to recover from that and beat my team mate at the end. I am obviously happy with the recovery we made after the first couple of laps. I still believe we did the maximum we could have done today. I hope we can be better in China, but behind the scenes there is a lot of work to be done."
Paddy Lowe, Chief Technical Officer:
"It was not a great end to a very tough weekend for the team. We didn't have the pace today to compete with any other cars except ourselves. We have clearly got to go away and look deeply into what has affected our pace, even relative to where we were in Melbourne just two weeks ago. We'll see what we can do in the short time available between now and China next week. This is a time to stick together as a team and work intelligently and diligently on the problems we face. Finally, I hope the Ferrari mechanic is OK after the nasty looking incident in the pitstop during the race."
Track: Bahrain International Circuit, Bahrain
Lap Length: 5.412 km / 3.362 miles

Weather: Warm and dry
Air: 28°C Track: 33°C

POS

DRIVER

TEAM

Time (Fastest Lap)

Grid

1

S Vettel

Ferrari
1:32:01.940 (1:34.453)

1

2
V Bottas
Mercedes
+0.699 (1:33.740)
3
3
L Hamilton
Mercedes
+6.512 (1:33.953)
9
16
L STROLL
Williams Martini Racing
+ 1 LAP (1:35.266)
20
17
S SIROTKIN
Williams Martini Racing
+ 1 LAP (1:34.563)
18