German GP; Williams Martini Grand Prix Preview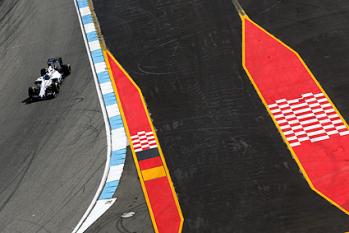 By Williams Martini Racing
July 17 2018
With the end to Formula One's triple header the Williams Martini team has had a break as they prepare for the next round of the 2018 championship the 2018 German GP. The team moves to the Hockenheim circuit again looking to reverse their season after the very difficult start. For both team drivers Lance Stroll and Sergey Sirotkin this is a circuit where they both have had prior expereince and looking forward to running their again. Again the team is hoping that recent upgrades will perform better at this circuit.
Formula Oneís first ever tripleheader drew to a conclusion after three long, busy weeks on the road. After a week at home and back at base, the teamís suitcases are packed and itís time for the return of the popular German Grand Prix. After a brief hiatus in 2017, Hockenheim returns to the F1 calendar to host the first of another back-to-back race weekend.
PADDY LOWE:
Itís good to be going back to Germany after a one-year pause as itís a place we enjoy racing, an important circuit in Formula One history, as well as being the home of our partner Mercedes. The German fans always come out in force, which gives the Stadium section a great atmosphere come race day! The track was redesigned back in 2002 and was significantly shortened, removing the long runs through the forest, but it produces some great racing, so I hope we can put on a good show for the fans.
SERGEY SIROTKIN:
I have very good memories from Hockenheim. I like this track, and it should suit our car better than other tracks have done. It will be exciting to see what our recent upgrades can bring us before the summer break. It will be an important weekend for the team and I am looking forward to it.

LANCE STROLL:
This is a cool track that has a great flow and I know it really well. I have very fond memories of driving there and it has always treated me well. I have won three races there in the past and our Formula 3 car always worked pretty well there. I have not seen an F1 race there, but Iím told that the atmosphere in the stadium section is electric. The town itself is not much of a place and usually there is not much happening there, but I am sure that will be very different when the F1 fans get back there after not having had a German race for two years.

Race Data
Friday:
Practice 1: 11:00 - 12:30
Practice 2: 15:00 - 16:30
Saturday:
Practice 3: 12:00 - 13:00
Qualifying: 15:00 Ė 16:00
Sunday: Race: 15:10