German GP: Step forward for Williams Martini in Qualifying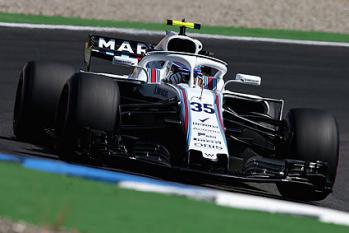 By Andrew Hooper
July 21 2018
The results of qualifying for the 2018 German GP would see the Williams Martini team make a step forward with Sergey Sirotkin finishing in 12th in what was a great result for the team after struggling in the opening races of the season. Unfortunately team-mate Lance Stroll would finish in 19th after having setup issues with his car, but he would most likely move forward places as a result of driver penalties. Both drivers will be able to pick their strategies for the race with the team hoping to achieve an improved result.
Williams Martini German GP Qualifying
Team Summary:
After a wet third practice session qualifying was looking like dry tyres would be used. The eighteen minute period would commence. For Williams they would be using their new updates looking to try and get into the second period. Both Williams drivers would come out early joined by a large number of drivers. Leclerc would go quickest with a 1m:15.203 but Ocon would move ahead with a 1m:15.034. Grosjean was now fastest 1m:13.959 followed by Magnussen, Perez and Ocon. Leclerc was now quickest with a 1m:13.1562 followed now by Hulkenberg. But it was quickly changing as Grosjean again went fastest, 1m:13.547.

Raikkonen was now quickest with a 1m:12.794 but Vettel would go ahead with a 1m:12.765. Hamilton would go third with Bottas fourth. Hulkenberg was fifth followed by Grosjean, Leclerc, Ericsson, Magnussen and Ocon tenth. Ricciardo would move up to seventh dropping to eighth as Verstappen would move up to fifth. Vettel would improve with a 1m:12.538 with Raikkonen also improving with a 1m:12.723. Raikkonen would again improve with a 1m:12.505 to be quickest from Vettel, Bottas, Hamilton and Verstappen.

Grosjean was now fourth ahead of Hamilton and Leclerc. After their second runs the Williams drivers were now 13th and 17th. The session would end and Raikkonen would remain fastest from Vettel, Bottas, Grosjean, Hamilton, Leclerc, Magnussen, Verstappen, Ricciardo, and Sainz tenth. With the end of the period we would see Hamilton saying that he could not change gears and would be told to stop and would pull off and stop out of qualifying. So for Williams for the first time in ages they had a car into the second period of qualifying.
The second period would commence with a Williams car running. Bottas would set the first quickest time with a 1m:12.152 followed by Magnussen and Grosjean. Verstappen and Alonso were out on the soft tyre looking like they would run a different strategy. Raikkonen was now second followed by Vettel in third. The session would be red flagged as a result of gravel on the track when Ericsson had gone off at Turn 13 and brought gravel back onto the racing line. That would ruin the quick laps of Verstappen and Sainz. With just under seven minutes remaining the period would restart.

The drivers would slowly start to return with Verstappen going second having switched to the ultrasoft tyres. After his run Sergey would be tenth dropping to 12th and unfortunately out of qualifying. But 12th was still a great result for the Williams team. With the third period the first runs would see Vettel fastest with a 1m:11.539 followed by Bottas, Raikkonen, Verstappen, Grosjean, Hulkenberg, Magnussen, Leclerc, Sainz and Perez yet to set a time. The second runs would see Vettel improve on his time to beat Bottas with a time of 1m:11.212 with Bottas 0.204 behind. Raikkonen would remain third followed by Raikkonen, Verstappen, Magnussen, Grosjean, Hulkenberg, Sainz, Leclerc and Perez tenth. So Vettel would secure pole for his home race. For Williams they would finish in 12th and 19th with Sergey showing a great step forward in what has been a very difficult season. With drivers likely to get penalties Lance would move forward on the race grid.
Lance Stroll:
Lance would follow his team-mate out for the first period also on the ultrasoft tyre. Lance's first quick lap was a 1m:14.691 to be sixth dropping to seventh. Lance would drop to twelfth and would pit after a five lap run. He would drop to 16th while he was in his pit. Lance would also return currently 18th. Lance would set a 1m:14.206 but this was only good enough for 17th. He would drop to 19th and was out of qualifying. Lance would later say that he just didn't get it together and that he didn't dial the car into how he would like it.

Sergey Sirotkin:
Sergey would be the first driver out using the ultrasoft tyre. A 1m:15.771 from Sergey would see him set the first time. Sergey would drop to tenth but would improve with a 1m:14.731 to be seventh dropping to eighth. Sergey would drop to 17th as others went quicker. Sergey had also pitted after a five lap run. With five minutes remaining Sergey would return on a new set of ultrasoft tyres currently 19th. Sergey would set a 1m:13.708 to be thirteenth. With the end of the period Sergey would be 15th. Sergey had yet to come out but the session would be red flagged. With the restart there was under three minutes remaining as Sergey returned for his one and only run. He was on a new set of ultrasoft tyre. A 1m:13.702 would see him tenth but he would drop one place to be 11th and then 12th. He was out of qualifying but should be pleased with the improvement seen from the FW41.
View a Printer Friendly version of this Story.
German GP: Step forward for Williams Martini in Qualifying
Williams F1 (IP Logged)
21/07/2018 14:37
What do you think? You can have your say by posting below.
If you do not already have an account
Click here to Register
.
Sorry, only registered users may post in this forum.