German GP: Double DNF for Williams Martini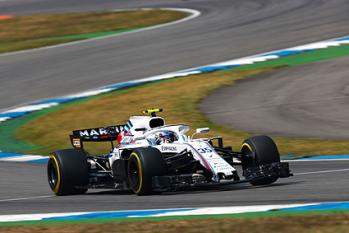 By Andrew Hooper
July 23 2018
After an encouraging qualifying the results for the 2018 German GP would see the exact opposite with the Williams Martini team again having to face disappointment this time with the team suffering a double DNF. The race was run under changing conditions with the race starting under dry conditions but rain would fall on and off over the course of the race. As for the retirements the two drivers Lance Stroll and Sergey Sirotkin would suffer different failues with Lance suffering a break issue and Sergey been told to stop his car with an oil leak. Not the result the team was hoping for as the team continues to work towards achieving a positive result.
German Grand Prix Race Review
Qualifying for the sixty seven lap 2018 German Grand Prix would see the Williams Martini drivers finish in 12th and 18th positions with Sergey Sirotkin leading his team-mate Lance Stroll. But with other driver penalties Lance would start the race from 17th. On pole for the race was Vettel followed by Bottas, Raikkonen, Verstappen, Magnussen, Grosjean, Hulkenberg, Sainz, Leclerc and Perez in tenth. The top ten drivers would all start the race on used ultrasoft tyres. Behind them the soft tyre was the tyre of choice with only Ocon on the ultrasoft tyre and Ricciardo the medium tyre. Both Williams drivers would start on the soft tyre. There was the possibility of rain for the race but the start would be dry but with clouds overhead.

The grid would complete the parade lap and would form up and the lights would go out and it would be Vettel leading from Bottas and Raikkonen. Sergey had dropped to 14th and Lance was 16th. Lap three and Vettel was leading by 1.7 seconds over Bottas. Verstappen was running in fourth ahead of Magnussen, Hulkenberg and Grosjean. Sergey had dropped to 15th to be running just ahead of his team-mate. Lap seven and Vettel was extending his lead over Bottas. Hamilton was now up in tenth and this would become ninth. With Ricciardo moving forward the Williams drivers were now 16th and 17th. Lap sixteen and Hamilton was up to sixth while the Williams drivers weer still running well down the order but they were on the soft tyre.
Vettel would continue to lead as Raikkonen pitted and took on soft tyres on lap twenty. Vettel was now leading by 4.3 seconds on lap twenty two. Ricciardo had move up to tenth while Hamilton's move forward had slowed with his in fifth stuck behind Raikkonen. Hulkenberg had stopped switching to the medium tyre and Magnussen would pit taking on medium tyres and returning in 11th. Grosjean would also pit also taking on the medium tyre returning in 15th. The Williams drivers were now 13th and 14th with Sergey still leading Lance. This would become 12th and 14th with Grosjean now in 13th. Perez had also stopped returning on soft tyres after a slow stop and would come out behind Lance but would pass the Williams. This would see the Williams drivers 13th and 16th as Sergey had been passed by Grosjean.

Perez would also get past Sergey seeing the Williams now 14th and Lance 16th. Neither of the Williams drivers had pitted while those around them had. Vettel would pit on lap twenty seven seeing Bottas now leading from Verstappen, Raikkonen and Vettel with Vettel on soft tyres. Ocon would pit returning in 20th. Sergey ad Lance were now 15th and 17th. Lance would pit on lap twenty nine taking on the medium tyre and running in 20th. Bottas would pit on lap thirty taking on soft tyres as Ricciardo retired pulling off the track. Sergey had also pitted on lap thirty and would return in 19th while Lance was 18th. Both drivers were a lap down as on lap thirty one Verstappen would pit returning in fifth running on new soft tyres.
Lap thirty two and the Williams drivers were in 17th and 18th. It was reported that Sergey's stop had seen him with a sticking left rear. After the stops it would see Raikkonen leading from Vettel with Hamilton third followed by Bottas, Verstappen, Magnussen, Hulkenberg, Grosjean, Perez and Sainz tenth. The Ferrari team would swap their drivers around with Vettel now leading from Raikkonen as both were on different strategies. Lap forty four and Hamilton would pit taking on ultrasoft tyres returning in fifth. And lap forty five and the rain would start to fall but only at Turn six. Drivers would start to pit taking on the intermediate tyre including Alonso and Leclerc. With the stops Lance was now 13th and Sergey 15th. Verstappen had now pitted taking on intermediate tyres. He would drop to fifth behind Hamilton.

But the rain would ease seeing drivers having to pit to switch back to a dry tyre. Verstappen would be one of those forced to pit and switch to ultrasoft tyres. With all this happening Bottas would get past Raikkonen and into second place. But the rain would start to fall again seeing Lance pit taking on intermediate tyres. But at the front it would all go wrong as Vettel crashed out of the lead at the hairpin seeing the Safety Car deployed. Drivers would pit including Bottas and Sergey and Lance for Williams. The Williams drivers were in 14th and 15th and both on the intermediate tyre. Raikkonen would pit taking on ultrasoft tyres. This would see Hamilton leading from Bottas and Raikkonen third. But Sergey would retire from the race been forced to pull of the track with the car smoking.
Lance would pit again on lap fifty six and retire in his garage. So a promising weekend had ended with a disappointing double retirement for the Williams team. The Safety Car would come in and it would be Hamilton leading from Bottas but Bottas would start to attack his team-mate. But Hamilton was able to open out a slight lead and Bottas was told to hold position and we would see Hamilton take victory in the 2018 German GP. Bottas was second followed by Raikkonen, Verstappen, Hulkenberg, Grosjean, Perez, Ocon, Ericsson, and Hartley tenth.