Italian GP: Williams Martini Grand Prix Preview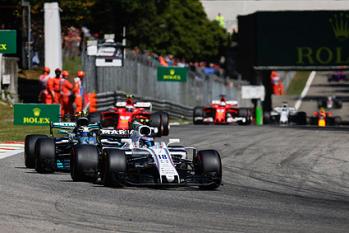 By Williams Martini Racing
August 28 2018
One week after the Belgian GP the Williams Martini team moves to another famous circuit Manza for the last European race of the 2018 season, the Italian GP. For both Williams team drivers Sergey Sirotkin and Lance Stroll they have fond memories of their performances at the Monzqa circuit. In particular Lance will look back to last years race when he started on the front row. It is not expected that a smiliar event will take place at this years race but again the Williams team is looking to come away with a positive result hopefully scoring further points.
Belgium's been and gone and so now the team turns to Italy's "Temple of Speed", the Autodromo Nazionale Monza, which hosts Round 14 of the 2018 Formula One World Championship. Notoriously known for being the home of the "Tifosi", Monza rarely fails to excite and entertain with its fast track layout and famed corners such as Ascari and Parabolica. Monza also means farewell to our beloved motorhome as Formula One's European season draws to a close, with Singapore next up on the calendar.
PADDY LOWE:
Straight on from Belgium we go to Italy for the final European race of the season. Monza always has a great atmosphere as the fans come out in their droves to support Formula One. It's another iconic track within a unique park setting inside the city. The circuit is one of the fastest of the year but despite the high-speed sections, it still has some challenging corners with big braking events to manage. We look forward to ending the European section of the calendar there before heading into the final flyaway races of the year.
SERGEY SIROTKIN:
I have very good memories racing at Monza, as I raced there a lot in my junior categories. I like the spirit of the track and the challenges that the high-speed, low-downforce corners create for the drivers. The track will throw some challenges at the car which will be nice to evaluate. It's the last European race so we will have to enjoy it as much as we can.

LANCE STROLL:
Last year, Monza was a big turning point in my career, it really impacted on it. I have incredible memories of my front-row start and I will remember it forever. Qualifying was crazy in the rain, but I took to it like a fish to water! The atmosphere there is incredible and the passion of the tifosi is amazing. You can't ignore the history of the place and the importance of Ferrari. I am really looking forward to getting back there.

Race Data
Friday:
Practice 1: 11:00 - 12:30
Practice 2: 15:00 - 16:30
Saturday:
Practice 3: 12:00 - 13:00
Qualifying: 15:00 – 16:00
Sunday: Race: 15:10