Italian GP: Williams Martini makes small gains in FP2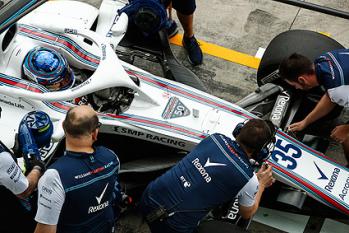 By Andrew Hooper
September 1 2018
In what was a session that was delayed due to a major crash involving Ericsson the Williams Martini team would complete their second Friday practice session for the 2018 Italian GP. It was an uneventful session for the team that saw Sergey Sirotkin and Lance Stroll finish in 15th and 17th positions. The team was able to work through both low fuel and longer runs in the session. Their performances have seen the team make small gains with them only been a few tenths off the midfield battle.
Williams Martini Italian GP Friday 2nd Practice
Team Summary:
With the start of the second Friday practice session drivers would start to come out but it would be red flagged very early when Ericsson was to go off the track and into a series of rolls destroying his car. He was able to get out of his car without injury. Neither Williams driver had taken to the track prior to the accident. Where the Sauber had hit the barriers they had been damaged such was the impact. It appeared to be an issue with his DRS not closing correctly that had caused the accident. His car under braking turned sharply to the left and into the barrier. The session had seen dry tyres been used with the majority of drivers on the soft tyre prior to the red flag.

The session would restart with drivers using a mix of available tyres. Vettel was out on the supersoft with the majority on the soft. Grosjean would go fastest with a 1m:25.424 but Hulkenberg would go quicker then Hamilton would go fastest with a 1m:22.837 followed now by Ricciardo and Raikkonen. Bottas was fourth followed by Ocon and Hartley. Vettel using the softest tyre would set a 1m:22.640 to be quickest. But Hamilton would set a 1m:21.938 to again be quickest. But Raikkonen was also quick setting a 1m:21.873 but Vettel would also improve with a 1m:21.716. With fifty five minutes remaining the Williams drivers were 15th and 16th while at the front Vettel was still fastest from Raikkonen, Hamilton, Verstappen. Bottas, Grosjean, Ricciardo, Perez, Sainz, and Ocon tenth.

With forty seven minutes remaining the track was empty. Vettel would be first to come back out again on the supersoft tyres. Other drivers would also come out for supersoft tyre runs. Vettel would not improve his time making a few mistakes in his lap. Both Mercedes cars were out on the supersoft tyre with Bottas still fourth after his soft tyre run. Hamilton would set a 1m:21.854 to be second. The majority of the field were all out on their supersoft tyre runs as Ricciardo went fifth and Verstappen sixth. Vettel would improve with a 1m:21.468 but Raikkonen would go fastest with a 1m:21.375. Hamilton would go second with a 1m:21.392 while Vettel would go quickest with a 1m:21.105 from Raikkonen and Hamilton. After their supersoft tyre runs the Williams drivers were 14th and 15th. Vettel would spin his car at the Parabolica gently touching the wall but he was able to return to his pit. Leclerc would move up to 14th seeing the Williams drivers now 15th and 16th.

The Williams drivers were on longer runs having split their testing running on the soft and supersoft tyres. Leclerc was now ninth after a supersoft tyre run. The session would end with Vettel remaining quickest from Raikkonen, Hamilton, Bottas, Verstappen, Ricciardo, Ocon, Perez, Leclerc and Hulkenberg tenth. The Williams drivers would remain in 15th and 17th as they continued to lack pace from the FW41.
Lance Stroll:
Lance would come out for his first run in the session using the soft tyre. Using this tyre he would set a 1m:25.340 to be ninth. He would drop to tenth then quickly down to 17th. Lance would improve with a 1m:24.701 to be 14th one place ahead of his team-mate. He would drop to 17th and effectively last. Lance would pit after an eight lap run. With thirty five minutes remaining Lance was out for a supersoft tyre run. A 1m:23.566 would see Lance go 14th. This would become 15th as Lance pitted after a seven lap run. Lance would join his team-mate out for a further run on the supersoft tyre. Lance would be pushed down to 17th by a Torro Rosso. Lance would pit switching to the soft tyre and with the end of the session he would have completed 17 laps on this tyre.
Sergey Sirotkin:
Sergey would take to the track with the restart of the session running on the medium tyre. Sergey would set a 1m:25.711 to be second dropping to ninth. This would become 13th as drivers on softer tyres went quicker. A 1m:24.702 from Sergey would see him 14th. With his team-mates improved time Sergey would drop to 15th. This would become 16th but he was able to improve with a 1m:24.217 to be 13th dropping to 14th. Sergey would continue with a long run on the medium tyre but would pit after a twelve lap run. Sergey would come out for a run on the supersoft tyre. Sergey was now 15th and yet to set an improved time on the softer tyres. A 1m:23.789 from Sergey would see him 14th. A 1m:23.514 from Sergey would see him 12th. He would drop to be 13th as he pitted after a seven lap run. He would drop to 14th with under half an hour remaining. With twenty minutes remaining Sergey would return still on the supersoft tyre for what should be a longer run. But Sergey would pit after a single lap but would quickly return continuing his run. He would pit having completed fifteen lap on the supersoft tyre. He would switch to the used medium tyres as the team continued their evaluations. He would pit with under five minutes remaining.
| Pos | Driver | Car | Time | Gap | Laps |
| --- | --- | --- | --- | --- | --- |
| 1 | Sebastian Vettel | Ferrari | 1m21.105s | - | 27 |
| 2 | Kimi Raikkonen | Ferrari | 1m21.375s | 0.270s | 31 |
| 3 | Lewis Hamilton | Mercedes | 1m21.392s | 0.287s | 31 |
| 4 | Valtteri Bottas | Mercedes | 1m21.803s | 0.698s | 35 |
| 5 | Max Verstappen | Red Bull-Renault | 1m22.154s | 1.049s | 28 |
| 6 | Daniel Ricciardo | Red Bull-Renault | 1m22.296s | 1.191s | 28 |
| 7 | Esteban Ocon | Force India-Mercedes | 1m22.930s | 1.825s | 30 |
| 8 | Sergio Perez | Force India-Mercedes | 1m22.942s | 1.837s | 32 |
| 9 | Charles Leclerc | Sauber-Ferrari | 1m22.965s | 1.860s | 20 |
| 10 | Nico Hulkenberg | Renault | 1m23.063s | 1.958s | 30 |
| 11 | Romain Grosjean | Haas-Ferrari | 1m23.077s | 1.972s | 31 |
| 12 | Carlos Sainz | Renault | 1m23.193s | 2.088s | 32 |
| 13 | Kevin Magnussen | Haas-Ferrari | 1m23.233s | 2.128s | 28 |
| 14 | Pierre Gasly | Toro Rosso-Honda | 1m23.402s | 2.297s | 34 |
| 15 | Sergey Sirotkin | Williams-Mercedes | 1m23.514s | 2.409s | 28 |
| 16 | Brendon Hartley | Toro Rosso-Honda | 1m23.531s | 2.426s | 16 |
| 17 | Lance Stroll | Williams-Mercedes | 1m23.566s | 2.461s | 29 |
| 18 | Fernando Alonso | McLaren-Renault | 1m23.741s | 2.636s | 23 |
| 19 | Stoffel Vandoorne | McLaren-Renault | 1m24.084s | 2.979s | 30 |
| 20 | Marcus Ericsson | Sauber-Ferrari | - | - | 2 |