Italian GP: Williams Martini secures single point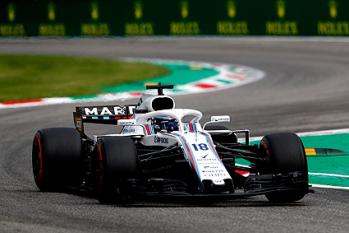 By Andrew Hooper
September 2 2018
The Williams Martini team would finally secure their second points scoring result of the 2018 season with a tenth place finish from Lance Stroll. Team-mate Sergey Sirotkin would finish in 11th in what was a race that saw both drivers run close to the top ten. Given their season so far it was a great performance from both Williams drivers to finish the race and keep fighting the whole race for a points scoring result. Even though the result was just a single point it still showed that progress is been made.
Italian Grand Prix Race Review
Qualifying for the fifty three 2018 Italian Grand Prix would see the Williams Martini team secure their best result of the season with their drivers starting the race from tenth and twelfth. Lance Stroll was able to finish ahead of team-mate Sergey Sirotkin while at the front it was Raikkonen on pole followed by Vettel, Hamilton, Bottas, Verstappen, Grosjean, Sainz, Ocon and Gasly in ninth. The top ten would start the race on their used supersoft tyres while outside the top ten Magnussen, Leclerc, Ericsson, and Ricciardo were all on the soft tyre. This would mean that both Williams drivers would start the race on the supersoft tyre. The cars would move away on their formation lap.

The grid would fill up with Raikkonen on pole and with the lights going out it would be Vettel who would take the lead but Raikkonen would get back past and Vettel would spin as Hamilton tried to pass at the chicane. This would see Hamilton now second followed by Verstappen, Bottas, Grosjean, Sainz, Ocon and for Williams they were eighth and ninth. Vettel would pit joined by Hulkenberg, Ricciardo, and Ericsson as the Safety Car was deployed. Vettel would switch to the soft tyre while Ricciardo would switch to the supersoft tyre. Hartley was out of the race with broken front suspension while Vettel was now second last. The incident between Hamilton and Vettel was under investigation.
The restart would take place on lap five and Hamilton was able to take the lead of the race. But Raikkonen would fight back and take the lead back and was able top open out a small lead. Lance and Sergey weer running close together with Lance right behind Ocon. No further action would be taken in regard to the Vettel Hamilton incident. Alonso in tenth had dropped away from ninth place Sergey. Perez was abe to get past Alonso but Alonso was able to recover the tenth place. Lap eight and Raikkonen was now leading by 0.9s while Perez again passed Alonso. Vettel was now in 15th and looking to pass Ricciardo. Vettel would pass Ricciardo for 14th while Perez started to close the gap to Sergey. Lance was now 2.1 seconds behind Ocon with Sergey a further second back.

Vettel was now 11th but 4.8 seconds behind Perez. Perez would comment that he felt he had some front wing damage while Sergey was now closing into onto Lance. Sergey was quicker than Lance but couldn't get past while Vettel was closing into Perez. But Perez would finally get past Sergey for ninth but Sergey had a fast approaching Vettel. Ocon would pass Sainz for sixth while at the front Raikkonen was still leading Hamilton by just over a second. Vettel would pass Sergey fro tenth seeing Sergey now 11th. Lance now had Vettel right past him which he would do using his DRS seeing Lance now tenth. The top ten was now Raikkonen, Hamilton, Verstappen, Bottas, Grosjean, Ocon, Sainz, Perez, Vettel and Lance in tenth. Vettel was now able to pass Perez for eighth as he continue to try and get back to the front.
Vettel would now pass seventh from Sainz as Raikkonen pitted on lap twenty two taking on soft tyres returning in fourth. Hamilton was told to push but Raikkonen also was pushing to make sure he avoided the undercut. Bottas was trying to pass Verstappen while fro Williams Ricciardo would pass Sergey for 11th with Sergey now 12th. It was looking like Ricciardo would also get past Lance with the gap under a second. Vettel was now up to fifth passing Ocon. Grosjean had pitted from fifth returning in 12th but Ricciardo would suffer an engine failure seeing him retire. These moves would see the Williams pair again ninth and tenth but they had yet to pit. Verstappen would pit on lap twenty eight taking on the soft tyres and returning in sixth. Bottas was now second followed by Raikkonen and Vettel.

Bottas was told to keep Raikkonen behind as Hamilton pitted on lap thirty. He would come out behind Raikkonen but in front of fourth placed Vettel. Bottas was now leading but Raikkonen was closing as Vettel pitted on lap thirty one. He would take on the supersoft tyre but was now down in tenth. The Williams drivers were now in eighth and ninth but would not stay in these positions. Bottas was able to keep Raikkonen behind which was helping Hamilton a lot. Vettel would get past both Williams moving up into eighth. Lance and Sergey were now ninth and tenth. The top three were all within a second as Vettel passed Sainz for seventh. Lance would pit on lap thirty eight with Bottas also coming in with Bottas now fourth now on the soft tyre. Lance was also on the soft tyre and down in 13th.
Sergey would also pit on lap forty taking on the soft tyre and returning in 13th right behind team-mate Lance. Vettel was now in fifth as Ocon pitted dropping to ninth and returning on the soft tyre as Lance passed Ericsson for 11th. Both Williams drivers would suffer slow stops as Sainz pitted dropping to tenth and on the soft tyre. At the front Hamilton was still fighting Raikkonen running within a second of the Ferrari. Lance was able to get past Hulkenberg for tenth with the Renault on very used tyres. Sergey would also get past Ericsson for 12th. But Sergey would take 11th from Hulkenberg as the Renault pitted. This would see the Williams drivers 10th and 11th. Bottas would try to pass Verstappen but would not succeed dropping back from the Red Bull. Verstappen would block the Mercedes and Bottas would have to take the escape road. At the front Hamilton would finally get past Raikkonen taking the lead.

Lap forty six and the top ten was Hamilton, Raikkonen, Verstappen, Bottas, Vettel, Grosjean, Ocon, Perez, Sainz, and Lance as Verstappen was give a five second penalty for his move on Bottas. The final laps would wind down with Hamilton extending his lead as Raikkonen's tyres failed badly but he would get home in front of third placed Bottas. Vettel would finish in fourth with Verstappen now fifth as a result of his penalty. Grosjean was sixth followed by Ocon, Perez, Sainz, and Lance in tenth. Sergey would finish in eleventh just outside the points. Even so it was still a great performance from both Williams drivers to finish the race and keep fighting the whole race for a points scoring result. Thankfully Lance would secure the team second points scoring result, be it only a single point, but it showed that progress is been made.
View a Printer Friendly version of this Story.
Italian GP: Williams Martini secures single point
Williams F1 (IP Logged)
02/09/2018 15:37
What do you think? You can have your say by posting below.
If you do not already have an account
Click here to Register
.
Re: Italian GP: Williams Martini secures single point
02/09/2018 21:06
Looks like mofe than a point.. an update in order!
Sorry, only registered users may post in this forum.