Singapore GP: Williams Martini finish outside points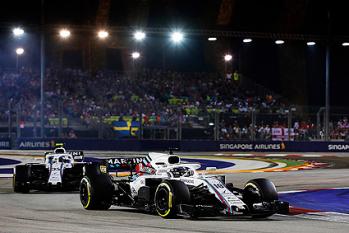 By Andrew Hooper
September 17 2018
The 2018 Singapore GP would see the Williams Martini team have neither car make it into the points with Lance Stroll and Sergey Sirotkin finishing in 14th and 19th. Lance would have a solid if uneventful race running outside the top ten. For Sergey his race was far more eventful as he would pick up debris from Ocon's car after the Force India driver crashed on lap one. Sergey would pit and would then have to contend with Perez as the Force India driver tried to pass the Williams. Perez would collide into Sergey's car seeing the Force India driver receive a penalty. Sergey would then run at the rear of the field and would bring his car to the end of the race despite the damage to his car.
Singapore Grand Prix Race Review
The grid for the sixty one lap 2018 Singapore Grand Prix would see the Williams Martini drivers start from 19th and 20th, with Sergey Sirotkin ahead of Lance Stroll. Lance would start the race on the soft tyre while Sergey was on the ultrasoft. The top ten would all start on used hypersoft tyres joined by the Torro Rosso cars on new hypersoft tyres. The grid would form up after the parade lap and with the lights going out ti would be Hamilton leading but Ocon would crash heavily and Vettel would get past Verstappen for second. Replays would show Perez making contact with Ocon pushing him into the wall. Ocon was running alongside his team-mate going through the corner but Perez would simply nt give Ocon room.

The Safety Car would be deployed with Hamilton leading from Vettel, Verstappen, Bottas, Raikkonen, Ricciardo, Perez, Grosjean, Alonso and Sainz tenth. For Williams Sergey was running in 17th and Lance on the harder tyre 19th. Sergey's car would have a part from Ocon's car stuck into the front wing. Sergey would pit on lap five changing him to soft tyres and removing the part off Ocon's car. He would return now in 19th and Lance 18th. Lap five and the race would restart and Hamilton would be leading Vettel by around a second. As the race continued it was a period of the race where drivers settled into what is a very long and demanding race. Both Williams drivers continued to run on their soft tyres with ten laps completed. Hamilton's lead was now 2.1 seconds over Vettel with Verstappen a similar margin behind the Ferrari.
Vettel would pit on lap sixteen changing to the ultrasoft tyre. Vettel was now seventh ahead of Grosjean but with clear track in front. Hamilton would pit the next lap changing to the soft tyre and returning in fifth. Bottas would pit on lap eighteen and would also take the soft tyre returning in seventh. Vettel would get Willpast Perez to now be fifth and behind Hamilton. Lap nineteen and Verstappen would pit from the lead taking on the soft tyre and returning in fourth and ahead of Vettel. Hamilton was now third with Raikkonen leading from Ricciardo. Other drivers had pitted including Perez, Hulkenberg, Grosjean and Hartley. Of these drivers Grosjean was now on the soft and the others the ultrasoft tyre. This would see Lance and Sergey running in 14th and 15th.

Vettel would say that his ultrasoft tyre would not last to the end of the race. Lap twenty two and Perez was right behind Sergey running on the ultrasoft tyre. Raikkonen would pit on lap twenty four taking on the soft tyre returning in sixth. This would see Ricciardo leading from Hamilton, Verstappen, Vettel, Bottas, and Raikkonen. Alonso was seventh followed by Sainz, Gasly, Leclerc, Ericsson, Magnussen and Vandoorne but this group had yet to pit. Gasly would lose ninth place to Leclerc but would pit on lap twenty eight joined by Magnussen. This would see Lance and Sergey 12th and 13th as Ricciardo pitted on lap twenty nine changing to the ultrasoft tyre. He would return behind Raikkonen in sixth. Hamilton was now leading from Verstappen, Vettel, Bottas, Raikkonen, Ricciardo, Alonso, Sainz, Leclerc and Ericsson in tenth.
Perez would continue to struggle to get past Sergey with the Williams drivers running in 12th and 13th. But Perez would get alongside Sergey and would turn left into the Williams. Both cars would be damaged as a result of the contact but Sergey was able to continue but Hulkenberg was able to get past seeing Sergey now 14th. Lance was still running in 12th with thirty seven laps completed. having pitted Sergey would see Grosjean and Gasly get past him after some close running. At this time Sergey would be lapped by the leaders now running in 16th. Hulkenberg had now passed Lance seeing Lance now 13th. Leclerc would pit returning in 11th. Alonso had pitted changing to soft tyres returning in seventh. Perez would be given a drive through penalty for his moment with Sergey.

Lance had now pitted switching to the ultrasoft tyre seeing the Williams drivers now 15th and 16th. But Magnussen would get past Sergey seeing the Russian now 17th. Ericsson would finally pit on lap forty seven changing to the ultrasoft and returning in 11th. Sergey would also see Hartley get past now running in 18th and on very worn tyres. Perez was running behind Sergey and was able to get past seeing Sergey now 19th. Perez this time was able to get past in a clean manoeuvre. Sergey would pit on lap forty eight and would get a five second penalty in his pit stop due to a moment he had with Hartley running the Torro Rosso close the barrier when he was trying to pass the Williams. At the front Hamilton was now leading Verstappen by 4.5 seconds with Vettel still third.
As the drivers started to work through the last few laps the order was Hamilton from Verstappen, Vettel, Bottas, Raikkonen, Ricciardo, Alonso, Sainz, Leclerc and Hulkenberg tenth. For Williams Lance was running in 15th and Sergey 19th. Hamilton continued to extend his lead over Verstappen with the positions quite static as the race drew to a close. Lance continued to run in 15th with Gasly in front of him and Hartley behind. Sergey was now two laps down as Hamilton completed his final lap to take victory from Verstappen and Vettel. Bottas would remain fourth followed by Raikkonen, Ricciardo, Alonso, Sainz, Leclerc, and Hulkenberg would take the last point in tenth. For the Williams team Lance would finish in 14th and Sergey 19th. Lance had picked up a place as a result of a penalty handed to Grosjean. Given their starting positions and the lack of pace from the FW41 not a lot could have been expected from this race.
View a Printer Friendly version of this Story.
Singapore GP: Williams Martini finish outside points
Williams F1 (IP Logged)
17/09/2018 03:36
What do you think? You can have your say by posting below.
If you do not already have an account
Click here to Register
.
Sorry, only registered users may post in this forum.