Russian GP: FP3 and little improvement from Williams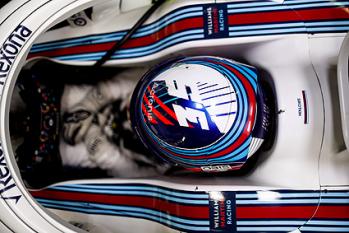 By Andrew Hooper
September 29 2018
The final practice session for the 2018 Russain GP would again see the Williams Martini drivers well down the times with the pair finishing in only 17th and 18th. Again it would be Sergey Sirotkin who was the quicker finishing in 17th while team-mate Lance Stroll was 18th. But behind them were the McLaren's with one of their cars failing to complete a qualifyng simulation so the situation showed little improvement if any from the Williams drivers. Qualifying is going to be equally as difficult with the result most likely being that both drivers will not make it past Q1.
Williams Martini Russian GP Saturday Practice
Team Summary:
After their first runs the Williams drivers were first and third but Alonso would move ahead with a 1m:37.466 running on the hypersoft tyre. The Williams pair were on the ultrasoft tyre. On the hypersoft Raikkonen would go quickest with a 1m:35.074 but team-mate Vettel would go quicker with a 1m:33.859. Raikkonen would improve but remained in second. Bottas was out on the hypersoft tyre and would move into second just 0.082 behind Vettel. Hartley was now fourth also on the hypersoft tyre. Hamilton was now out on the hypersoft tyre with just over forty minutes remaining. More drivers were coming out running on a mix of ultrasoft and hypersoft tyres. Hamilton would eventually go quickest with a 1m:33.664 with his team-mate Bottas in second. Vettel was third followed by Raikkonen, Ricciardo, Leclerc, Ocon, Gasly, Ericsson, and Perez tenth.

Sainz was now tenth dropping to 11th with the Williams drivers now 12th and 18th. Verstappen was now eighth with the top ten now Hamilton, Bottas, Vettel, Raikkonen, Ricciardo, Ocon, Leclerc, Verstappen, Perez and Sainz. With twenty minutes remaining the Williams drivers were 14th and 19th. Vettel was on a quick lap but would run wide at Turn seven ruining his lap. Both Mercedes were back out on new hypersoft tyres. Bottas would set a 1m:33.321 to go quickest on his qualifying simulation. Hamilton would set a 1m:33.067 to move ahead and be quickest. More drivers started to come out for their simulations with Vettel failing to improve currently third. Leclerc would move up to fifth while Raikkonen had moved ahead of Vettel.

Magnussen was now sixth followed by Ocon, Perez, Ricciardo, and Verstappen tenth. But Verstappen would improve to be fifth ahead of Leclerc and Ocon. After their qualifying simulations the Williams pair were 17th and 18th with the McLaren's behind them. Ricciardo would improve to be sixth followed by Leclerc, Ocon, Magnussen and Perez tenth. The Williams drivers would remain in their positions but were around a second behind the midfield group and one of the McLaren's behind had not completed a hypersoft tyre run. But again Sergey would finish ahead iof team-mate Lance.

Lance Stroll:
Lance would also come out early running on the ultrasoft tyre as well. Lance would set a 1m:39.328 to currently be third behind Alonso. Lance would improve with a 1m:38.679 but his next lap would be a 1m:38.051 now fifth. Lance would pit after a seven lap run currently seventh. Lance would also come out for a hypersoft tyre run and would set a 1m:37.167 to currently be 15th. He would drop to 18th with just under thirty minutes of the session remaining. Lance would continue to lap on the hypersoft tyre having dropped to be slowest. He would set a 1m:36.982 to move up to 19th. With under five minutes remaining Lance would return for his hypersoft tyre run. Lance would set a 1m:36.274 to be 18th.

Sergey Sirotkin:
Sergey would be out first for Williams running on the ultrasoft tyre. Sergey would set a 1m:37.704 to currently be quickest with only two times having been set. Sergey would pit after a short three lap run. He would drop behind Alonso as the McLaren went quicker. As others went quicker he would drop to sixth. Sergey would return for a hypersoft tyre run and would set a 1m:36.469 to be 11th. He would drop to 14th as others set their hypersoft tyre runs. Sergey was 0.698 ahead of his team-mate and would pit after an eight lap run. Sergey would drop to 15th but had yet to come back out. But with nine minutes remaining he would return on a new set of hypersoft tyres. Sergey would start his lap with a personal best first two sectors. But he would fail to improve in the last sector seeing him set a 1m:36.071 to currently be 17th. Sergey would pit completing his session.
| Pos | Driver | Car | Time | Gap | Laps |
| --- | --- | --- | --- | --- | --- |
| 1 | Lewis Hamilton | Mercedes | 1m33.067s | - | 13 |
| 2 | Valtteri Bottas | Mercedes | 1m33.321s | 0.254s | 16 |
| 3 | Sebastian Vettel | Ferrari | 1m33.667s | 0.600s | 14 |
| 4 | Kimi Raikkonen | Ferrari | 1m33.688s | 0.621s | 11 |
| 5 | Max Verstappen | Red Bull-Renault | 1m33.937s | 0.870s | 11 |
| 6 | Daniel Ricciardo | Red Bull-Renault | 1m34.394s | 1.327s | 14 |
| 7 | Charles Leclerc | Sauber-Ferrari | 1m34.628s | 1.561s | 15 |
| 8 | Esteban Ocon | Force India-Mercedes | 1m34.809s | 1.742s | 16 |
| 9 | Kevin Magnussen | Haas-Ferrari | 1m34.820s | 1.753s | 15 |
| 10 | Sergio Perez | Force India-Mercedes | 1m34.916s | 1.849s | 14 |
| 11 | Carlos Sainz | Renault | 1m34.988s | 1.921s | 13 |
| 12 | Pierre Gasly | Toro Rosso-Honda | 1m35.125s | 2.058s | 21 |
| 13 | Romain Grosjean | Haas-Ferrari | 1m35.185s | 2.118s | 18 |
| 14 | Nico Hulkenberg | Renault | 1m35.213s | 2.146s | 12 |
| 15 | Marcus Ericsson | Sauber-Ferrari | 1m35.370s | 2.303s | 16 |
| 16 | Brendon Hartley | Toro Rosso-Honda | 1m36.033s | 2.966s | 22 |
| 17 | Sergey Sirotkin | Williams-Mercedes | 1m36.071s | 3.004s | 16 |
| 18 | Lance Stroll | Williams-Mercedes | 1m36.274s | 3.207s | 20 |
| 19 | Stoffel Vandoorne | McLaren-Renault | 1m36.597s | 3.530s | 14 |
| 20 | Fernando Alonso | McLaren-Renault | 1m36.992s | 3.925s | 21 |