Russian GP: Another frustrating race for Williams Martini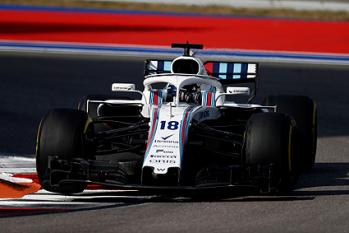 By Andrew Hooper
October 1 2018
The 2018 Russian GP would see the Williams Martini team again suffer the frustrations of a race where neither Lance Stroll or Sergey Sirotkin could make any progress during the race. Lance and Sergey would finish in 15th and 18th. Both drivers would suffer from graining on the ultrasoft tyre forcing them to pit early changing to the soft. From then on both drivers would run at the rear of the field in what was a disapointing result especially for Sergey being his home race.
Russian Grand Prix Race Review
Qualifying for the fifty three lap 2018 Russian Grand Prix would see Williams Martini drivers Sergey Sirotkin and Lance Stroll finish in 18th an 20th places but with a variety of penalties to other drivers they would start the race from 13th and 14th. On pole for the race was Bottas followed by Hamilton, Vettel, Raikkonen, Magnussen, Ocon, Leclerc, Perez, Grosjean and Ericsson tenth. At the rear of the grid would be both McLaren, Red BUll and Torro Rosso cars which had all received penalties. The top four drivers would all start the race on the ultrasoft tyre while the rest of the top ten were on the hypersoft. As for the Williams team both drivers were on the new ultrasoft tyres while the Renault's in front of the Williams were both on the soft tyre. Both Red Bull cars were also on the soft tyre and the McLaren's the ultrasoft.

As the cars sat of the grid thee was the finest rain falling with clouds over the circuit. The drivers would leave the grid and return taking their grid positions and with the lights going out it would be a good start from Bottas with Vettel trying to get past but both Mercedes could keep their positions. Vettel was now third followed by Raikkonen, Magnussen, Leclerc, Ocon, Perez, Grosjean and Ericsson in tenth. But Lance would drop to 14th just ahead of his team-mate. Verstappen was now in 11th from 18th. Lap three and Bottas was leading by 1.3s over Hamilton. Verstappen would continue to move forward now in tenth. Ricciardo had passed Sergey and Lance to be 14th with the Williams drivers 15th and 16th. Hartley had pitted to change from the hypersoft tyre to the soft. The Torro Rosso cars were running last in the field and both would pit having issues with their rear brakes retiring as a result.
Alonso would pit on lap seven changing to the soft tyre running in 18th. Verstappen was now up in sixth and Ricciardo 12th. Sergey was now right behind his team-mate with Lance pitting on lap nine. Sergey was still 16th as Vandoorne had passed him. Lance would take the soft tyre returning in 18th. Verstappen was now fifth thirteen seconds behind Raikkonen in fourth. Grosjean would pit seeing Sergey move up to 15th. Grosjean would switch from the hypersoft tyre to the soft. Magnussen would pit from ninth dropping to 13th having switched to the soft tyre. The Williams drivers were running in 15th and 18th. Leclerc and Ocon would both pit on lap twelve taking on the soft tyre with Leclerc 11th and Ocon 13th. Sergey would also pit changing to the soft tyre returning in 18th. Ericsson would pit from ninth taking on the soft tyre returning in 13th.

Bottas would pit on lap 14th switching to the soft tyre. Bottas was now in fifth and Verstappen fourth. Perez would also pit switching from the hypersoft tyre to the soft seeing Ocon and Perez now 11th and 12th. Vettel would pit from second on lap fifteen. He would change to the soft tyre and would return behind Bottas in fifth. Lance and Sergey were now 16th and 18th. Hamilton would pit on lap sixteen seeing Raikkonen leading with Hamilton coming out in third behind Verstappen. When Hamilton came out of the pit Vettel was able to get past Hamilton and was challenging Bottas. At the front it was Raikkonen leading from Verstappen and Bottas. Vettel and Hamilton were running close together but Hamilton would get past after some very close running. Ricciardo was now sixth followed by Hulkenberg, Leclerc, Sainz and Magnussen tenth.
Raikkonen would pit on lap twenty taking the soft tyre seeing Verstappen now leading from Bottas and Hamilton. Sergey was now one lap down with Lance just about to be lapped. Hamilton would finally get past Bottas for second and effectively the lead of the race. Bottas had been told by his team to let Hamilton past. Perez would be allowed to get past his team-mate for tenth looking to get past ninth place Magnussen. Lap thirty and the order was Verstappen, Bottas, Vettel, Raikkonen, Ricciardo, Hulkenberg, Leclerc, Magnussen, and Perez in tenth. Sainz would pit returning in 16th and on the ultrasoft tyre. The Renault of Hulkenberg would pit from seventh returning in 11th now on the ultrasoft tyre. Lance was now in 15th and Sergey 18th.

Ocon and Perez were now in 9th and 10th with Ericsson pitting on lap forty to make a second pit stop taking on the ultrasoft tyre. He would return in 13th. Ricciardo would pit on lap forty one switching to the ultrasoft tyre and in sixth while Verstappen was still leading the race by 1.3 seconds over Hamilton. Verstappen would finally pit on lap forty five changing to the ultrasoft tyre dropping to fifth and allowing Hamilton to lead the race from Bottas and Vettel. The final laps would wind down and it would be Hamilton who would win from Bottas, Vettel, Raikkonen, Verstappen, Ricciardo, Leclerc, Magnussen, Ocon, and Perez tenth. For Williams their drivers would finish 15th and 19th again having struggled with a lack of pace.
View a Printer Friendly version of this Story.
Russian GP: Another frustrating race for Williams Martini
Williams F1 (IP Logged)
01/10/2018 05:01
What do you think? You can have your say by posting below.
If you do not already have an account
Click here to Register
.
Sorry, only registered users may post in this forum.