United States GP: FP1 sees wet conditions for Williams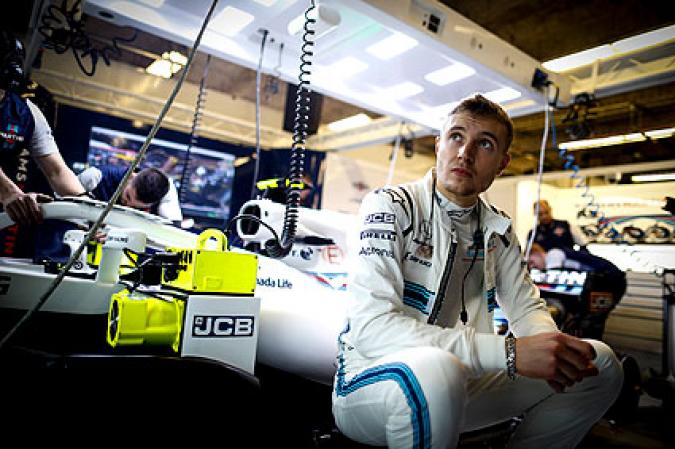 By Andrew Hooper
October 20 2018
The opening Friday practice session for the 2018 United States GP would see both Williams Martini drivers complete runs on the intermediate tyre with the Austin circuit wet after showers. Both drivers would finish down the times with Sergey Sirotkin in 15th and Lance Stroll 19th. It was an uneventful session for the Williams team as they tried to gain information but wree limited by the range of tyres that they had available.
Williams Martini United States GP Friday 1st Practice
Team Summary:
The opening Friday practice would see a wet track as drivers started to come out for their installation laps using the full wet tyre. Amongst them would be both Williams drivers who would pit after single laps. Drivers coming out later were on the intermediate tyre and with twenty minutes of the session completed no times had been set. It was expected that the wet track would remain for the rest of Friday. Ricciardo would set the first time with a 1m:55.266 but Verstappen would move ahead with a 1m:53.644 with both on the intermediate tyre. But Ricciardo would set a 1m:51.512 to again be quickest. With fifty five minutes remaining both Williams drivers were back out running on the intermediate tyre.

Bottas was now fastest using the intermediate tyre with a 1m:48.806 followed by Ricciardo, Verstappen, Alonso, Sainz and Raikkonen in sixth. Everyone was on the intermediate tyre as Raikkonen went fourth but Sainz would take this spot. Ericsson was now fifth followed by Raikkonen, Alonso, Leclerc, Norris and Vettel tenth. The session would be red flagged as a result of drivers dragging gravel onto the circuit when they went off. The session would restart with just under forty minutes remaining with both Williams drivers returning. Hamilton would move up to third behind Ricciardo. Verstappen would jump up to second. Hamilton would go quickest with a 1m:47.502 to be ahead of Bottas. Vettel would move up to sixth followed by Grosjean and Sainz. Leclerc was now 10th while the Williams drivers had both pitted and were currently 17th and 19th.

With fifteen minutes remaining the track would empty but both Williams cars would return running on the used intermediate tyres. With the end of the session the top ten would be Hamilton, Bottas, Verstappen, Ricciardo, Vettel, Raikkonen, Sainz, Grosjean, Leclerc and Ericsson tenth. For Williams their drivers would finish the session in 15th and 19th with Sergey ahead of Lance. Not much could be read into this result as the track conditions were changeable but Sergey certainly needs to show an improvement as he no doubt chases the second seat at Williams for 2019.
Lance Stroll:
Lance would be the first out for Williams also using the full wet tyre. He would complete his installation lap and would pit. Lance would return running on the intermediate tyre. Lance would set a 1m:57.522 to be 14th. Lance would also come back out still running on the intermediate tyre. Lance was now 18th. Lance would set a 1m:51.896 to be seventh dropping to ninth. This would become 13th then 15th as he pitted. In his pit he would drop to 18th. Lance would return as the session drew to a close. He would drop to 19th behind his team-mate. Lance would pit having failed to improve.
Sergey Sirotkin:
Sergey would follow his team-mate out also using the full wet tyre. Sergey would also pit after a single lap. Sergey would also come out running on the intermediate tyre. Sergey would set a 1m:54.802 to be 11th. Sergey would return with the restart of the session still on intermediate tyres. Sergey had dropped to 16th as others went quicker. Sergey would improve with a 1m:52.180 to be tenth dropping to 14th then 16th. Sergey would drop to 18th and would pit having completed eight laps on the intermediate tyre. This would become 19th as he sat in his pit. Sergey would join his team-mate back out on the track and would set a 1m:51.830 to move ahead of Lance to be 18th. Sergey would continue to lap and would set a 1m:51.589 to now be 15th. Sergey would pit as the final minutes of the session commenced.
| Pos | Driver | Car | Time | Gap | Laps |
| --- | --- | --- | --- | --- | --- |
| 1 | Lewis Hamilton | Mercedes | 1m47.502s | - | 6 |
| 2 | Valtteri Bottas | Mercedes | 1m48.806s | 1.304s | 7 |
| 3 | Max Verstappen | Red Bull-Renault | 1m48.847s | 1.345s | 9 |
| 4 | Daniel Ricciardo | Red Bull-Renault | 1m49.326s | 1.824s | 9 |
| 5 | Sebastian Vettel | Ferrari | 1m49.489s | 1.987s | 18 |
| 6 | Kimi Raikkonen | Ferrari | 1m49.928s | 2.426s | 20 |
| 7 | Carlos Sainz | Renault | 1m50.665s | 3.163s | 8 |
| 8 | Romain Grosjean | Haas-Ferrari | 1m50.821s | 3.319s | 10 |
| 9 | Charles Leclerc | Sauber-Ferrari | 1m50.961s | 3.459s | 14 |
| 10 | Marcus Ericsson | Sauber-Ferrari | 1m51.016s | 3.514s | 14 |
| 11 | Fernando Alonso | McLaren-Renault | 1m51.036s | 3.534s | 9 |
| 12 | Lando Norris | McLaren-Renault | 1m51.232s | 3.730s | 9 |
| 13 | Pierre Gasly | Toro Rosso-Honda | 1m51.234s | 3.732s | 19 |
| 14 | Sergio Perez | Force India-Mercedes | 1m51.459s | 3.957s | 18 |
| 15 | Sergey Sirotkin | Williams-Mercedes | 1m51.589s | 4.087s | 14 |
| 16 | Kevin Magnussen | Haas-Ferrari | 1m51.614s | 4.112s | 15 |
| 17 | Esteban Ocon | Force India-Mercedes | 1m51.655s | 4.153s | 17 |
| 18 | Nico Hulkenberg | Renault | 1m51.717s | 4.215s | 7 |
| 19 | Lance Stroll | Williams-Mercedes | 1m51.896s | 4.394s | 14 |
| 20 | Sean Gelael | Toro Rosso-Honda | 1m52.625s | 5.123s | 21 |